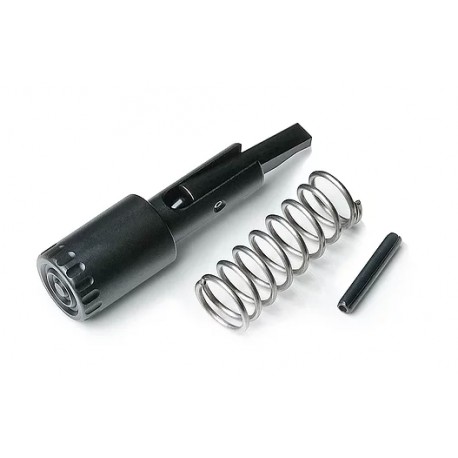 View larger
LANTAC UFA-S, Ultimate Forward Assist (Solid)
01-UP-UFA-S
New product
Warning: Last items in stock!
Availability date:
More info
Lantac UFA-S
Ultimate Forward Assist (Solid).
The UFA-S is precision swiss lathe turned & manufactured from certified 4140 Cr-Mo steel, giving improvements to strength, corrosion resistance and durability over the original materials.
Parts are all heat treated to 48-52 Rc (Rockwell C).
In addition all parts are QPQ (Quench Polish Quench) Nitrided for improved corrosion resistance and enhanced lifespan.
The main Plunger spring is manufactured with the improvement of Stainless 316 music wire (as per ASTM A313) for enhanced corrosion resistance.
Closed end coils are also used rather than the original open ends for improved seating and alignment. Springs are stress relieved and air cooled.
The Plunger Detent Spring is improved and manufactured from Zinc plated music wire (as per ASTM A288) for enhanced corrosion resistance.
Springs are all stress relieved as per the mil specification.
The assembly is retained within the upper receiver with an improved spiral design pin as opposed to a slotted version for increased strength and durability. Pins are fully certified by the manufacturer.
The design of the Cap has been improved by reducing its diameter and snagging potential, creating a more streamline surface flow when assembled into the upper receiver.
Exterior surface knurling around the caps edge allows for positive engagement with a gloved or naked hand while removing the circular ridge that exists on the current design.
Weight of the assembly has also been improved to 20.227g (.7135oz) from 22.481g (.7930oz).
All outer details are bead blasted to create a satin, reduced reflectivity surface prior to finishing.
Manufactured in the USA from USA sourced materials and finishes.

MIL/LE discount available, please visit our FAQ page on how to obtain the discount code.
If you would like to add shipping insurance to your order, please purchase here.
Information: To buy firearms and essential elements, you must have or be able to obtain a weapon permit (WES/SON/PAA/PAE) in Switzerland according to. (Art. 8 al. 1 LArm and ss and art. 15 al. 1 ss OArm)
If you fulfill this requirement and you purchase a firearm, please send us the WES / PAA to the following address: Dynamik Arms SARL/Gmbh, 124 route d Annecy, 1257 Croix-De-Rozon Suisse
To Buy ammunition, we will need a copy of of less than 2 years old weapon permit (Waffenerwerbschein (WES / PAA)) with the same caliber as the ammo purchased that can be simply sent pdf by e-mail.
WARNING: If you don't have such permit or have doubt on the possibility to obtain one, don't purchase the firearm, essential element or ammunition since we you will have a penalty of 30% of the firearm, essential element or ammunition sum for admin costs.
Leupold Optics: For all Mil/LE and Government Entities only. Please submit valid accreditation
Export notice: Certain items are controlled for export by the International Traffic in Arms Regulations (ITAR). These controls take the form of export regulations and license requirements.