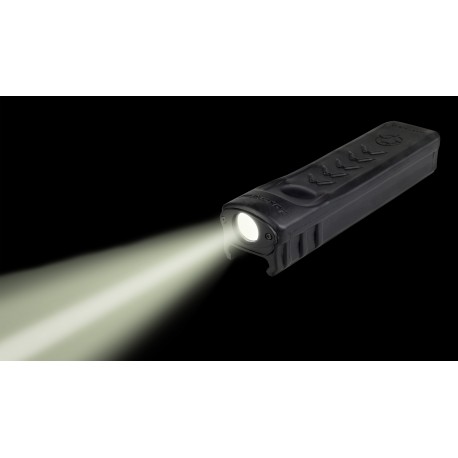 View larger
LaserMax Manta-Ray Weaponlight IR rechargeable
LMR-IR
New product
Warning: Last items in stock!
Availability date:
More info
The Manta-Ray™ is an ultra-lightweight, ruggedized rechargeable light that snaps on and off an AR-15 without the need for tools, levers or clamps via the combat-proven Manta rail connection. Manta-Ray boasts 140 Lumens of the newest "mint" green LED light technology, offering superior performance in close quarters and guarding the operator's vision from harmful reflection caused by higher output white lights. Download the Fact Sheet here.
Snaps on and off firearm rail in seconds
Mint green LED offers maximum visibility and prevents eye strain
Features adjustable brightness (dimmable from 140 to 20 lumens)
Discrete status indicator light displays battery life
Information: To buy firearms and essential elements, you must have or be able to obtain a weapon permit (WES/SON/PAA/PAE) in Switzerland according to. (Art. 8 al. 1 LArm and ss and art. 15 al. 1 ss OArm)
If you fulfill this requirement and you purchase a firearm, please send us the WES / PAA to the following address: Dynamik Arms SARL/Gmbh, 124 route d Annecy, 1257 Croix-De-Rozon Suisse
To Buy ammunition, we will need a copy of of less than 2 years old weapon permit (Waffenerwerbschein (WES / PAA)) with the same caliber as the ammo purchased that can be simply sent pdf by e-mail.
WARNING: If you don't have such permit or have doubt on the possibility to obtain one, don't purchase the firearm, essential element or ammunition since we you will have a penalty of 30% of the firearm, essential element or ammunition sum for admin costs.
Leupold Optics: For all Mil/LE and Government Entities only. Please submit valid accreditation
Export notice: Certain items are controlled for export by the International Traffic in Arms Regulations (ITAR). These controls take the form of export regulations and license requirements.