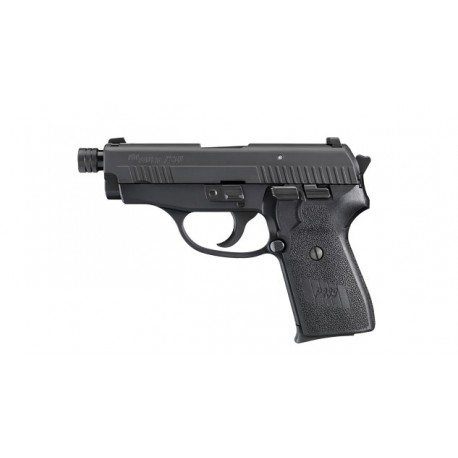 View larger
Sig Sauer P239 Tactical Nitron Cal 9x19
New product
Warning: Last items in stock!
Availability date:
More info
The P239® Tactical is the same pistol that was developed in response to demands from law enforcement and federal agents for a compact back-up pistol ideal for off duty concealed carry. Only this one comes with a threaded barrel, front cocking serrations on the slide, and the SRT Trigger System. The SRT (Short Reset Trigger) is designed to provide you the same great safety and smooth action of the SIG DA/SA with a comfortable reset that is 60% shorter for faster trigger return and surgical control during high speed shooting. The slim profile of this single-stack pistol provides easy concealment without sacrificing handling. The excellent characteristics of the P239 are the result of "performance engineering" and it's one of the keys to all SIG SAUER® pistols. The P239 tactical is available in 9mm

Caliber

9mm
| | |
| --- | --- |
| Mag Capacity | 8 Rounds (9mm) |
| | |
| --- | --- |
| Sights | SIGLITE® Night Sights |
| | |
| --- | --- |
| Frame Finish | Black Hard Anodized |
| | |
| --- | --- |
| Features | Threaded barrel, front cocking serrations on the slide, and the SRT Trigger System |
Information: To buy firearms and essential elements, you must have or be able to obtain a weapon permit (WES/SON/PAA/PAE) in Switzerland according to. (Art. 8 al. 1 LArm and ss and art. 15 al. 1 ss OArm)
If you fulfill this requirement and you purchase a firearm, please send us the WES / PAA to the following address: Dynamik Arms SARL/Gmbh, 124 route d Annecy, 1257 Croix-De-Rozon Suisse
To Buy ammunition, we will need a copy of of less than 2 years old weapon permit (Waffenerwerbschein (WES / PAA)) with the same caliber as the ammo purchased that can be simply sent pdf by e-mail.
WARNING: If you don't have such permit or have doubt on the possibility to obtain one, don't purchase the firearm, essential element or ammunition since we you will have a penalty of 30% of the firearm, essential element or ammunition sum for admin costs.
Leupold Optics: For all Mil/LE and Government Entities only. Please submit valid accreditation
Export notice: Certain items are controlled for export by the International Traffic in Arms Regulations (ITAR). These controls take the form of export regulations and license requirements.