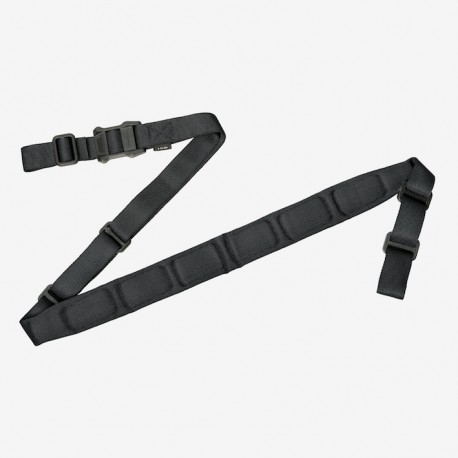 View larger
Magpul MS1 Padded Sling
New product
Warning: Last items in stock!
Availability date:
More info
The MS1 Padded Sling is an optimized, dedicated two-point sling that serves equally well in a one-point role when using optional adapters. Built around our MS1 slider, this system provides rapid adjustments to either lengthen or shorten the sling with no slipping once set, and no tails, loops, or other potential snag hazards. In a two-point role, the MS1 allows easy shoulder transitions, rapid adjustability for hands free rifle carry and shooting support from various positions. The MS1 system also has a series of adapters that are sold separately and based on the MS3® and MS4™ slings. By adding the appropriate adapter (available with Paraclip™ or QD Sling Swivel) for the sling, you can easily add one-point functionality to your MS1.
FEATURES
Dedicated two-point sling with integrated padded section
Custom variable-width tubular webbing (1-1/4" to 1-7/8") is strong and wear resistant while remaining anti-chafe for user comfort
High-grade, ripstop coated, closed cell foam pad is sewn to the inside of the sling webbing for protection and strength
Rapidly adjustable for length (shorter or longer) with new MS1® Slider
No tails, loops, or other potential snag hazards
Light weight yet durable hardware made of heavy-duty polymer
Colored webbing has Near Infrared (NIR) treatment to reduce IR signature
Can be configured for two to one-point convertibility with optional adapters
Information: To buy firearms and essential elements, you must have or be able to obtain a weapon permit (WES/SON/PAA/PAE) in Switzerland according to. (Art. 8 al. 1 LArm and ss and art. 15 al. 1 ss OArm)
If you fulfill this requirement and you purchase a firearm, please send us the WES / PAA to the following address: Dynamik Arms SARL/Gmbh, 124 route d Annecy, 1257 Croix-De-Rozon Suisse
To Buy ammunition, we will need a copy of of less than 2 years old weapon permit (Waffenerwerbschein (WES / PAA)) with the same caliber as the ammo purchased that can be simply sent pdf by e-mail.
WARNING: If you don't have such permit or have doubt on the possibility to obtain one, don't purchase the firearm, essential element or ammunition since we you will have a penalty of 30% of the firearm, essential element or ammunition sum for admin costs.
Leupold Optics: For all Mil/LE and Government Entities only. Please submit valid accreditation
Export notice: Certain items are controlled for export by the International Traffic in Arms Regulations (ITAR). These controls take the form of export regulations and license requirements.