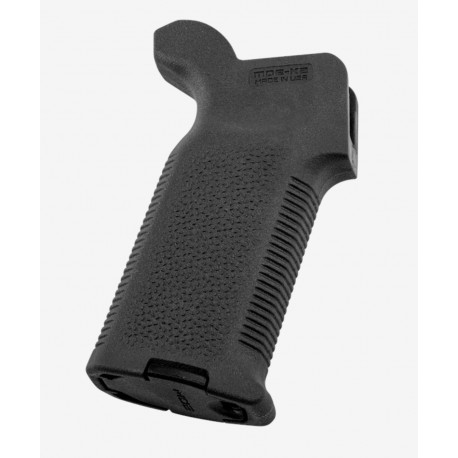 View larger
Magpul MOE-K2 Grip – AR15/M4
New product
Warning: Last items in stock!
Availability date:
More info
Similar in concept to the MOE-K, the MOE-K2 is a drop in upgrade for the AR15 / M4 that offers a more vertical grip angle, but in a full-size grip design. The steeper vertical grip angle is optimized for use on PDW (Personal Defense Weapon) configurations and improves comfort and control on short LOP rifles that bring the primary hand in closer to the shooter's body.
With an aggressive TSP texture for positive weapon control, compatibility with optional Storage Cores for gear stowage, and a unique backstrap design for proper trigger finger placement, the K2 brings modern styling and ergonomics to the AR platform.
All mounting hardware and a basic grip cap included.
Made in the USA.
| | |
| --- | --- |
| Platform | AR10, AR15, M4, M16, M110, SR25 |
| Grip Angle | 17 degrees |
| Height, receiver to bottom | 4.1 in. |
| Thickness, max | 1.2 in. |
| Weight, w/ hardware | 2.9 oz. |
| Other Specs | *NOTE: This grip will function properly with 7.62 NATO AR10/SR25 style of rifles but, depending on the make of the rifle, may or may not leave a gap between the backstrap's 'beaver tail' and the receiver. This gap is purely aesthetic and will not affect function. |
Information: To buy firearms and essential elements, you must have or be able to obtain a weapon permit (WES/SON/PAA/PAE) in Switzerland according to. (Art. 8 al. 1 LArm and ss and art. 15 al. 1 ss OArm)
If you fulfill this requirement and you purchase a firearm, please send us the WES / PAA to the following address: Dynamik Arms SARL/Gmbh, 124 route d Annecy, 1257 Croix-De-Rozon Suisse
To Buy ammunition, we will need a copy of of less than 2 years old weapon permit (Waffenerwerbschein (WES / PAA)) with the same caliber as the ammo purchased that can be simply sent pdf by e-mail.
WARNING: If you don't have such permit or have doubt on the possibility to obtain one, don't purchase the firearm, essential element or ammunition since we you will have a penalty of 30% of the firearm, essential element or ammunition sum for admin costs.
Leupold Optics: For all Mil/LE and Government Entities only. Please submit valid accreditation
Export notice: Certain items are controlled for export by the International Traffic in Arms Regulations (ITAR). These controls take the form of export regulations and license requirements.