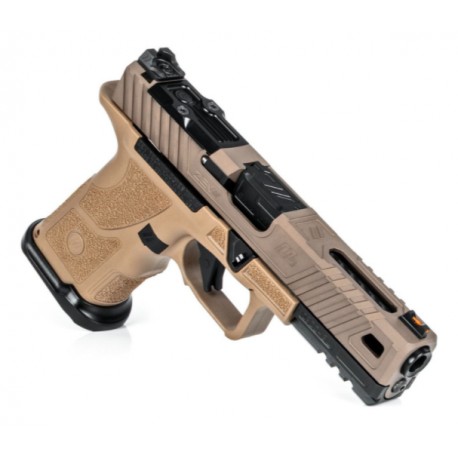 View larger
ZEV OZ9 Elite Covert Pistol Standard FDE Slide BLK BBL
OZ9-STD-COVERT-FDE-B
New product
Warning: Last items in stock!
Availability date:
More info
The O.Z-9 was designed and created for balance. It's one of the first things you notice when holding this pistol. Balance equates to what every shooter is looking for a more controllable pistol with less felt recoil, less muzzle flip and faster, more accurate follow-up shots
At the heart of the O.Z-9 is our pat. pending Steel Receiver. This solid steel frame runs the length of the entire pistol allowing the locking block to be fully integrated. The extended rails in the steel receiver help provide more than double the surface area of contact to the slide. Additional benefits include channels that clear out debris while also acting as lubricating reservoirs for high friction areas.
Having a singular component for the slide to travel along minimizes vibration and recoil energy by dispersing it along the receiver through the custom grip. A single take-down pin conveniently located at the front of the trigger guard locks the removable grip to the steel receiver.
By design, the trigger is housed in the steel receiver allowing for future grip upgrades without completely breaking down the pistol. Our improved grips have steeper angles, and forward hand position keeping the muzzle down, and pointing straighter
Slide features ZEV's patented RMR cut which enables the installation of red dot sights using an RMR footprint.

ZEV Exclusive O.Z-9 Signature Slide
ZEV Optimized Match Grade Barrel
ZEV PRO Flat Face Trigger
ZEV O.Z-9 PRO Magwell
ZEV O.Z.-9 Shorty Grip
ZEV O.Z-9 Custom SKB Case
Magpul PMAG® 15 GL9® - (Qty: 2)
Information: To buy firearms and essential elements, you must have or be able to obtain a weapon permit (WES/SON/PAA/PAE) in Switzerland according to. (Art. 8 al. 1 LArm and ss and art. 15 al. 1 ss OArm)
If you fulfill this requirement and you purchase a firearm, please send us the WES / PAA to the following address: Dynamik Arms SARL/Gmbh, 124 route d Annecy, 1257 Croix-De-Rozon Suisse
To Buy ammunition, we will need a copy of of less than 2 years old weapon permit (Waffenerwerbschein (WES / PAA)) with the same caliber as the ammo purchased that can be simply sent pdf by e-mail.
WARNING: If you don't have such permit or have doubt on the possibility to obtain one, don't purchase the firearm, essential element or ammunition since we you will have a penalty of 30% of the firearm, essential element or ammunition sum for admin costs.
Leupold Optics: For all Mil/LE and Government Entities only. Please submit valid accreditation
Export notice: Certain items are controlled for export by the International Traffic in Arms Regulations (ITAR). These controls take the form of export regulations and license requirements.