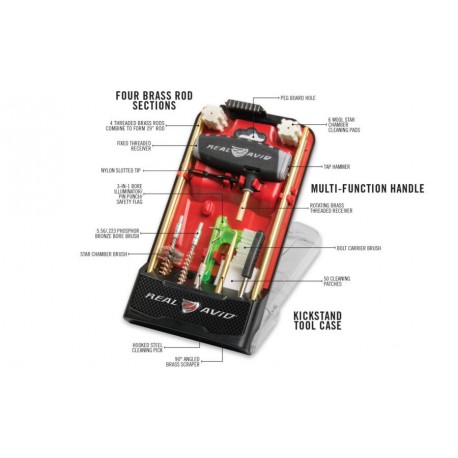 View larger
Gun Boss Pro AR15 - .223 / 5.56 mm modern cleaning kit
New product
Warning: Last items in stock!
Availability date:
More info
CLEAN THE HELL OUT OF YOUR AR-15
From scraping fouling off your bolt to deep cleaning your bore and star chamber, this AR15 cleaning kit will keep your weapon operating at peak performance. Its virtually indestructible polycarbonate case with patent pending kickstand design holds the ergonomic handle, brushes, and tools securely in place – unlike the chaos of other kits. It's tough, organized and thorough. Kinda like you.
Product overview
Multi-function handle rotates, taps pins, and also works as a detailing handle
High-performance tool case organizes, displays, and protects cleaning set
Engineering-grade resin case is impact resistant
Kickstand feature puts tools at your fingertips
Four brass rods combine with rotating handle to form a 29" rod
Star chamber brush
5.56/.223 bore brush utilizes phosphor bronze bristles
Nylon slotted tip
Bolt carrier brush
Hooked steel cleaning pick
90° angled brass scraper cleans carbon between the lugs of the star chamber
Information: To buy firearms and essential elements, you must have or be able to obtain a weapon permit (WES/SON/PAA/PAE) in Switzerland according to. (Art. 8 al. 1 LArm and ss and art. 15 al. 1 ss OArm)
If you fulfill this requirement and you purchase a firearm, please send us the WES / PAA to the following address: Dynamik Arms SARL/Gmbh, 124 route d Annecy, 1257 Croix-De-Rozon Suisse
To Buy ammunition, we will need a copy of of less than 2 years old weapon permit (Waffenerwerbschein (WES / PAA)) with the same caliber as the ammo purchased that can be simply sent pdf by e-mail.
WARNING: If you don't have such permit or have doubt on the possibility to obtain one, don't purchase the firearm, essential element or ammunition since we you will have a penalty of 30% of the firearm, essential element or ammunition sum for admin costs.
Leupold Optics: For all Mil/LE and Government Entities only. Please submit valid accreditation
Export notice: Certain items are controlled for export by the International Traffic in Arms Regulations (ITAR). These controls take the form of export regulations and license requirements.