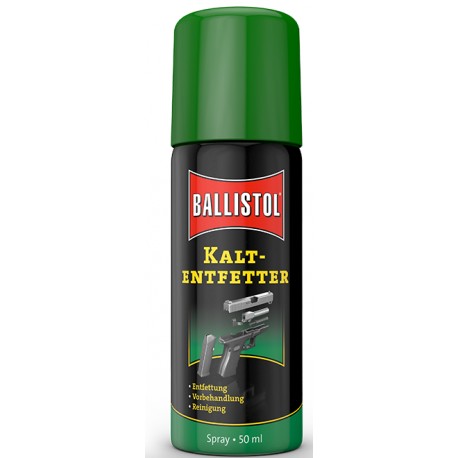 View larger
Ballistol Kalt-Entfetter spray, 200 ml
New product
Entfettung Vorbehandlung Reinigung
Warning: Last items in stock!
Availability date:
More info
Robla Cold Degreaser
You cannot do without it if you appreciate a superb and complete cleansing of your gun. Oil and grease are 100% removed from metallic surfaces, even persistent remainders of grease and resin will disappear without any problems using Robla Cold Degreaser.

Also for the cleaning and pre-treatment of surfaces in metal processing or in workshops. Robla Cold Degreaser is ideally suited to the cleaning of brake disks and for cleaning prior to completing painting work.

Ideal as a preliminary treatment to the browning process with KLEVER Quickbrowning. Robla Cold Degreaser is available in a bottle as well as in an environment-friendly spraycan.
Information: To buy firearms and essential elements, you must have or be able to obtain a weapon permit (WES/SON/PAA/PAE) in Switzerland according to. (Art. 8 al. 1 LArm and ss and art. 15 al. 1 ss OArm)
If you fulfill this requirement and you purchase a firearm, please send us the WES / PAA to the following address: Dynamik Arms SARL/Gmbh, 124 route d Annecy, 1257 Croix-De-Rozon Suisse
To Buy ammunition, we will need a copy of of less than 2 years old weapon permit (Waffenerwerbschein (WES / PAA)) with the same caliber as the ammo purchased that can be simply sent pdf by e-mail.
WARNING: If you don't have such permit or have doubt on the possibility to obtain one, don't purchase the firearm, essential element or ammunition since we you will have a penalty of 30% of the firearm, essential element or ammunition sum for admin costs.
Leupold Optics: For all Mil/LE and Government Entities only. Please submit valid accreditation
Export notice: Certain items are controlled for export by the International Traffic in Arms Regulations (ITAR). These controls take the form of export regulations and license requirements.