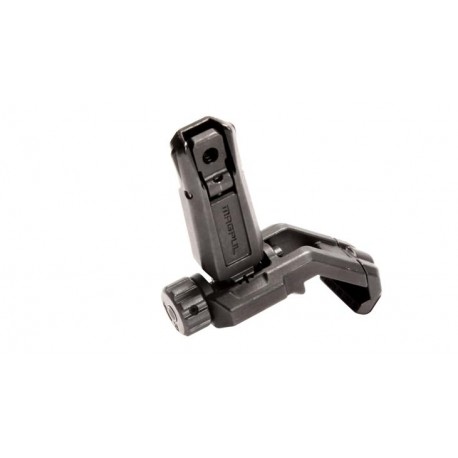 View larger
Magpul MBUS® Pro Offset Sight – Front
MAG525
New product
Warning: Last items in stock!
Availability date:
More info
Building on the proven MBUS Pro platform, the MBUS Pro Offset Sights are part of an an effective aiming system to supplement magnified optics on M1913 Picatinny mounting surfaces. In the event of a damaged or nonfunctional primary optic, or a close target, rotating the rifle 45 degrees provides the shooter with a fully-featured iron sighting solution.
The MBUS Pro Offset Front Sight features durable Melonited steel construction, positive detented lockup when deployed, tool-less adjustment of the front post for easy zeroing, and a low profile footprint to ensure compatibility and reduce interference with most rifle setups.
Made in U.S.A.
FEATURES
All steel construction
Case hardened and finished with Melonite QPQ™ for extreme resistance to wear and corrosion
Mounts on any MIL-STD-1913 Picatinny/STANAG 4694 rail including receiver-height gas blocks
Elevation adjustment knob – no tools required
Positive detents in both the up and down positions as well as on the elevation knob
Standard AR height over bore when deployed, 45 deg. offset right-hand side
SPECIFICATIONS
MBUS Pro Offset – Front
Weight, w/ hardware: 1.8 oz.
Height above rail at clamp: ~0.18"
Length, stowed: 1.9"
Information: To buy firearms and essential elements, you must have or be able to obtain a weapon permit (WES/SON/PAA/PAE) in Switzerland according to. (Art. 8 al. 1 LArm and ss and art. 15 al. 1 ss OArm)
If you fulfill this requirement and you purchase a firearm, please send us the WES / PAA to the following address: Dynamik Arms SARL/Gmbh, 124 route d Annecy, 1257 Croix-De-Rozon Suisse
To Buy ammunition, we will need a copy of of less than 2 years old weapon permit (Waffenerwerbschein (WES / PAA)) with the same caliber as the ammo purchased that can be simply sent pdf by e-mail.
WARNING: If you don't have such permit or have doubt on the possibility to obtain one, don't purchase the firearm, essential element or ammunition since we you will have a penalty of 30% of the firearm, essential element or ammunition sum for admin costs.
Leupold Optics: For all Mil/LE and Government Entities only. Please submit valid accreditation
Export notice: Certain items are controlled for export by the International Traffic in Arms Regulations (ITAR). These controls take the form of export regulations and license requirements.