Reduced price!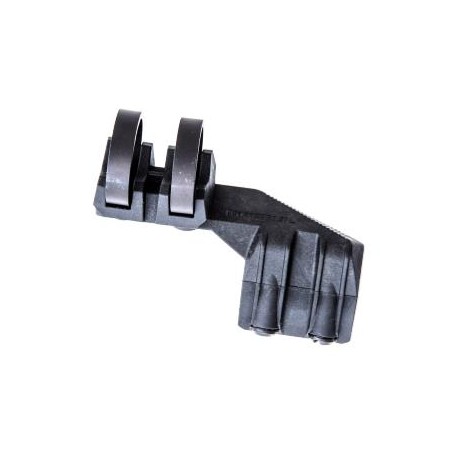 View larger
Magpul Rail Light Mount, RIGHT 1913 Picatinny
MAG498-R
New product
Warning: Last items in stock!
Availability date:
More info
The Rail Light Mount fits on any standard 1913 Picatinny Rail, is available in Right or Left side models, and integrates with the Magpul XTM panels. It positions the weapon light high and cantilevered forward, at the 11 o'clock or 1 o'clock position, to allow a more forward support hand position, keep the light tucked in close to the bore, and to minimize barrel shadow. A textured thumb ramp is integrated to provide the user an index point, aiding consistent hand placement and light activation. Constructed of reinforced polymer, the Rail Light Mount nearly eliminates light compatibility concerns by conveniently including everything you need to mount Surefire 300 and 600 series Scout Lights, 1913 Picatinny attachment pistol lights, and all light bodies from 0.75" to 1.03" in diameter via the included set of anodized aluminum mounting rings. Models are available to position the light high at 11 o'clock (LT, Left side model) or one o'clock (RT, Right side model).
Made in U.S.A.
Information: To buy firearms and essential elements, you must have or be able to obtain a weapon permit (WES/SON/PAA/PAE) in Switzerland according to. (Art. 8 al. 1 LArm and ss and art. 15 al. 1 ss OArm)
If you fulfill this requirement and you purchase a firearm, please send us the WES / PAA to the following address: Dynamik Arms SARL/Gmbh, 124 route d Annecy, 1257 Croix-De-Rozon Suisse
To Buy ammunition, we will need a copy of of less than 2 years old weapon permit (Waffenerwerbschein (WES / PAA)) with the same caliber as the ammo purchased that can be simply sent pdf by e-mail.
WARNING: If you don't have such permit or have doubt on the possibility to obtain one, don't purchase the firearm, essential element or ammunition since we you will have a penalty of 30% of the firearm, essential element or ammunition sum for admin costs.
Leupold Optics: For all Mil/LE and Government Entities only. Please submit valid accreditation
Export notice: Certain items are controlled for export by the International Traffic in Arms Regulations (ITAR). These controls take the form of export regulations and license requirements.