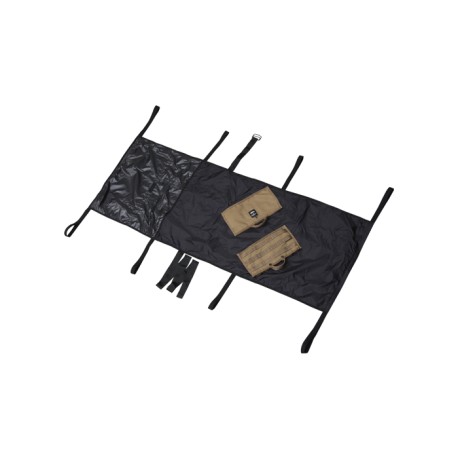 View larger
Phantom Litter
New product
Warning: Last items in stock!
Availability date:
More info
With a weight of 15oz, the Phantom® Litter is an ultra-light, ultra-compact, multi-use casualty evacuation platform designed for medical operators or individual soldiers. The Phantom® Litter allows the user to always have a means of moving a casualty without carrying bulky overweight equipment.
The Phantom® Litter can be mounted directly to the individual combat equipment without taking space on the vest from other critical items such as magazines, radio pouches, or hydration systems. These items can be mounted over the litter carrier, making it almost completely unnoticeable and without interfering with accessibility. The internal version was designed to fit inside of the Modular Body Armor Vest by Eagle or the Plate Carrier with Cummerbund issued in the Special Forces equipment set. These two options provide a level of flexibility never before associated with casualty evacuation platforms.
Not only does the litter function as a poles litter, it also functions as a casualty equipment bag after the casualty has been loaded on a standard litter. The bag can hold an individual's combat equipment or sensitive items to minimize the risk of loss during the casualty evacuation process.
Features:
Packed Dimensions: 10" x 7" x 1 ½" thick
Litter Dimensions: 65" x 23"
Weight: Internal mount: 15 oz
External Mount: 19 oz
Weight Capacity: 450Lbs (204Kg)
The Phantom® Litter was tested with a 500lb (227Kg) static load for a 24-hour period without damage.
Grab points: 8
Securing strap: 1 ½" nylon webbing with friction buckle
Hands free
Made in the USA.
Information: To buy firearms and essential elements, you must have or be able to obtain a weapon permit (WES/SON/PAA/PAE) in Switzerland according to. (Art. 8 al. 1 LArm and ss and art. 15 al. 1 ss OArm)
If you fulfill this requirement and you purchase a firearm, please send us the WES / PAA to the following address: Dynamik Arms SARL/Gmbh, 124 route d Annecy, 1257 Croix-De-Rozon Suisse
To Buy ammunition, we will need a copy of of less than 2 years old weapon permit (Waffenerwerbschein (WES / PAA)) with the same caliber as the ammo purchased that can be simply sent pdf by e-mail.
WARNING: If you don't have such permit or have doubt on the possibility to obtain one, don't purchase the firearm, essential element or ammunition since we you will have a penalty of 30% of the firearm, essential element or ammunition sum for admin costs.
Leupold Optics: For all Mil/LE and Government Entities only. Please submit valid accreditation
Export notice: Certain items are controlled for export by the International Traffic in Arms Regulations (ITAR). These controls take the form of export regulations and license requirements.