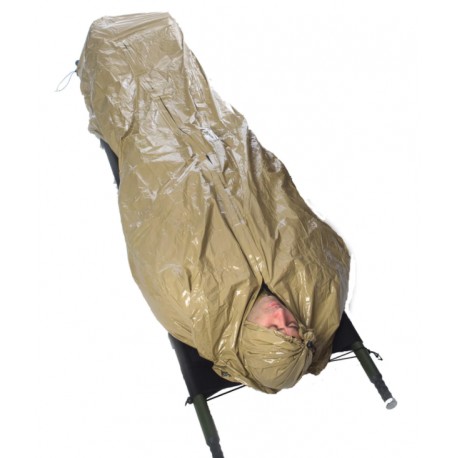 View larger
TACMED HELIOS System
New product
Warning: Last items in stock!
Availability date:
More info
Hypothermia prevention and management is a key component in the fight to prevent the onset of the lethal triad (acidosis, hypothermia, and coagulopathy). Failure to manage this condition early in the treatment process can reduce patient survivability and further complicate the treatment process. The HELIOS® System was developed to give the care provider with a hypothermia prevention and response that is ultra-compact, lightweight, modular system that allows varying levels of heat retention while still allowing patient accessibility.

Features of hypothermia prevention and management kit:

Two-piece system allows different levels of coverage to accommodate time available and the tactical situation
Easy-load casualty bag lays flat and is adjustable to fit most sizes of casualties
Complete casualty access
Blanket anchors protect against rotor wash and high winds by securing the system to most litters
High visibility pocket for placement of STAT cards or other triage cards
Information: To buy firearms and essential elements, you must have or be able to obtain a weapon permit (WES/SON/PAA/PAE) in Switzerland according to. (Art. 8 al. 1 LArm and ss and art. 15 al. 1 ss OArm)
If you fulfill this requirement and you purchase a firearm, please send us the WES / PAA to the following address: Dynamik Arms SARL/Gmbh, 124 route d Annecy, 1257 Croix-De-Rozon Suisse
To Buy ammunition, we will need a copy of of less than 2 years old weapon permit (Waffenerwerbschein (WES / PAA)) with the same caliber as the ammo purchased that can be simply sent pdf by e-mail.
WARNING: If you don't have such permit or have doubt on the possibility to obtain one, don't purchase the firearm, essential element or ammunition since we you will have a penalty of 30% of the firearm, essential element or ammunition sum for admin costs.
Leupold Optics: For all Mil/LE and Government Entities only. Please submit valid accreditation
Export notice: Certain items are controlled for export by the International Traffic in Arms Regulations (ITAR). These controls take the form of export regulations and license requirements.