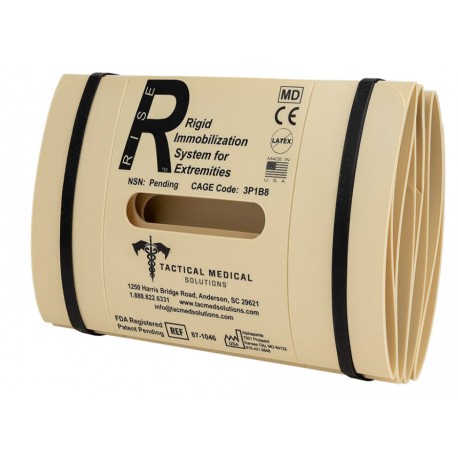 View larger
RISE Rigid Immobilisation System for Extremities)
87-1046
New product
Warning: Last items in stock!
Availability date:
More info
The RISE™ (Rigid Immobilization System for Extremities) is a rugged, low-profile, splint for extremity fractures and pelvic stabilization in the prehospital environment. Born from lessons on the battlefield, it can be intuitively applied under stress to create a straight splint, 90-degree splint, or pelvic stabilizer. It can be easily secured to the patient with items such as an elastic wrap or pressure bandage.

It features dynamic living hinges that allow the splint to collapse for maximum portability and kit space savings while easily form-fitting to the required shape and dimensions for proper upper and lower extremity splinting of fractures. With its compact size, the RISE™ fits into most individual first aid kits including all standard military-issued IFAKs.

Unique to the RISE™, multiple cutout slots provide you the capability to create a pelvic stabilizer when paired with a windlass or ratcheting tourniquet such as our SOF® Tourniquet. The Committee on Tactical Combat Casualty Care (CoTCCC) recognizes splinting and pelvic stabilization application as a critical step to prevent additional injury before moving a casualty.

The one-of-a-kind design is made of a lightweight polymer capable of withstanding surface cleaning and harsh elements, including saltwater while maintaining its rigidity and durability. Whether you're on the battlefield or a responder here at home, the RISE™ is an advantageous addition to any IFAK for increasing your medical capability at the point of injury when needed most.
Information: To buy firearms and essential elements, you must have or be able to obtain a weapon permit (WES/SON/PAA/PAE) in Switzerland according to. (Art. 8 al. 1 LArm and ss and art. 15 al. 1 ss OArm)
If you fulfill this requirement and you purchase a firearm, please send us the WES / PAA to the following address: Dynamik Arms SARL/Gmbh, 124 route d Annecy, 1257 Croix-De-Rozon Suisse
To Buy ammunition, we will need a copy of of less than 2 years old weapon permit (Waffenerwerbschein (WES / PAA)) with the same caliber as the ammo purchased that can be simply sent pdf by e-mail.
WARNING: If you don't have such permit or have doubt on the possibility to obtain one, don't purchase the firearm, essential element or ammunition since we you will have a penalty of 30% of the firearm, essential element or ammunition sum for admin costs.
Leupold Optics: For all Mil/LE and Government Entities only. Please submit valid accreditation
Export notice: Certain items are controlled for export by the International Traffic in Arms Regulations (ITAR). These controls take the form of export regulations and license requirements.