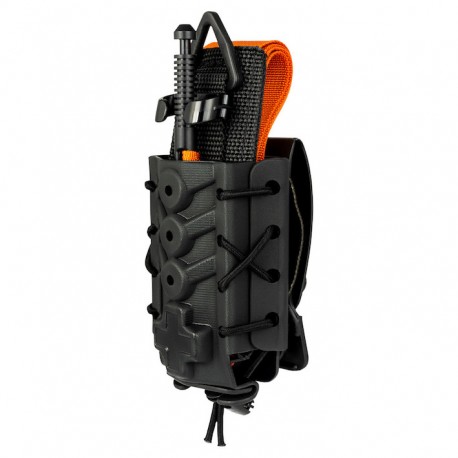 View larger
High Speed Gear Kydex Tourniquet TACO Black
New product
Warning: Last items in stock!
Availability date:
More info
The
Kydex Tourniquet TACO
by High Speed Gear is designed to retain windlass tourniquets on a belt, rig, or bag using the unique properties of Kydex. Comp-Tac uses airline-grade Kydex, which has a smooth inside finish, is resistant to sweat and solvents, and provides a material that won't damage the tourniquet, or the platform it's attached to. Combining Comp-Tac's Kydex manufacturing capabilities with High Speed Gear's versatile TACO design provides user the best of both worlds in manufacturing and use.
Features
:
100% aircraft-grade Kydex body gives a smooth finish for easy insertion and draw (0.080 thickness)
Unique shock cord design allows for the use of most windlass-style tourniquets
Kydex does not hold water and won't add weight from rain, humidity, or sweat
TACO hole pattern allows for stacking two pouches in the space of one
Can be mounted to belts up to 2"
Tourniquet
sold separately.
Information: To buy firearms and essential elements, you must have or be able to obtain a weapon permit (WES/SON/PAA/PAE) in Switzerland according to. (Art. 8 al. 1 LArm and ss and art. 15 al. 1 ss OArm)
If you fulfill this requirement and you purchase a firearm, please send us the WES / PAA to the following address: Dynamik Arms SARL/Gmbh, 124 route d Annecy, 1257 Croix-De-Rozon Suisse
To Buy ammunition, we will need a copy of of less than 2 years old weapon permit (Waffenerwerbschein (WES / PAA)) with the same caliber as the ammo purchased that can be simply sent pdf by e-mail.
WARNING: If you don't have such permit or have doubt on the possibility to obtain one, don't purchase the firearm, essential element or ammunition since we you will have a penalty of 30% of the firearm, essential element or ammunition sum for admin costs.
Leupold Optics: For all Mil/LE and Government Entities only. Please submit valid accreditation
Export notice: Certain items are controlled for export by the International Traffic in Arms Regulations (ITAR). These controls take the form of export regulations and license requirements.