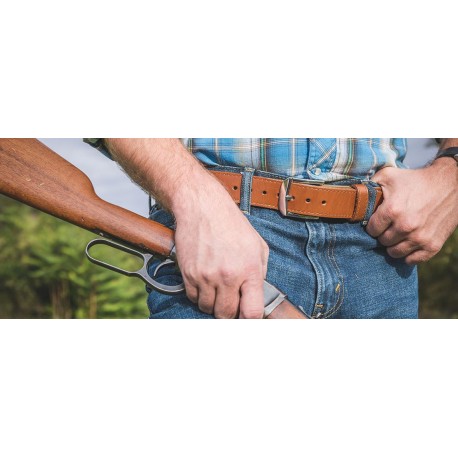 View larger
Magpul Tejas Gun Belt
New product
Warning: Last items in stock!
Availability date:
More info
"El Original" is the first belt in the Tejas Gun Belt line by Magpul.
Crafted from a combination of inch-and-a-half wide top grade bullhide leather and reinforced polymer, it's strong and water resistant, rigid enough to carry a holster, but still comfortable for everyday use. Proudly made in Texas, it's not just a great gun belt… it's a great belt.
U.S.A. Made in Texas
FEATURES
Top grade bullhide leather exterior layer and supportive but flexible reinforced polymer interior
Gun belt rigidity with dress belt comfort offers stretch and sag free performance
Removable chrome plated buckle with branded "tool-free" fasteners
Standard 1-1/2" wide and 1/4" thick to fit most belt loops and holsters
Eight holes with 3/4" spacing for a wide yet precise adjustment range
Multiple lengths available from 32-44 inches

*BELT SIZING:

DO NOT order your waist size or pants size! Lay an existing belt out flat and from where the leather folds at the point where the buckle is attached, measure to the hole that you typically use. Please remember when ordering to take into account any holster or accessory that may be worn. For in-between measurements use the next size up as our belts will not stretch over time.

We size our belts from the fold in the leather to the #5 hole (count the hole from the tip, ~7 inches) as per the diagram below.

CARE AND MAINTENANCE:

While the inner polymer layer of our belt is largely maintenance free, the outer layer will need to be cared for like any other quality leather item.

Do not roll up your belt unnecessarily tight when not in use
When putting your belt on, avoid bending it back over the buckle more than 90 degrees when tightening as this may strain the leather and weaken the stitching
While our belts will not stretch due to the reinforced polymer inner layer, avoid using leather softeners such as Neatsfoot or Mink oil
If necessary, a quality paste-style leather preservative may be used to maintain the leather surface
If the surface is ever scratched down to the natural beige leather the appropriate shade of shoe polish will help restore the color
Information: To buy firearms and essential elements, you must have or be able to obtain a weapon permit (WES/SON/PAA/PAE) in Switzerland according to. (Art. 8 al. 1 LArm and ss and art. 15 al. 1 ss OArm)
If you fulfill this requirement and you purchase a firearm, please send us the WES / PAA to the following address: Dynamik Arms SARL/Gmbh, 124 route d Annecy, 1257 Croix-De-Rozon Suisse
To Buy ammunition, we will need a copy of of less than 2 years old weapon permit (Waffenerwerbschein (WES / PAA)) with the same caliber as the ammo purchased that can be simply sent pdf by e-mail.
WARNING: If you don't have such permit or have doubt on the possibility to obtain one, don't purchase the firearm, essential element or ammunition since we you will have a penalty of 30% of the firearm, essential element or ammunition sum for admin costs.
Leupold Optics: For all Mil/LE and Government Entities only. Please submit valid accreditation
Export notice: Certain items are controlled for export by the International Traffic in Arms Regulations (ITAR). These controls take the form of export regulations and license requirements.