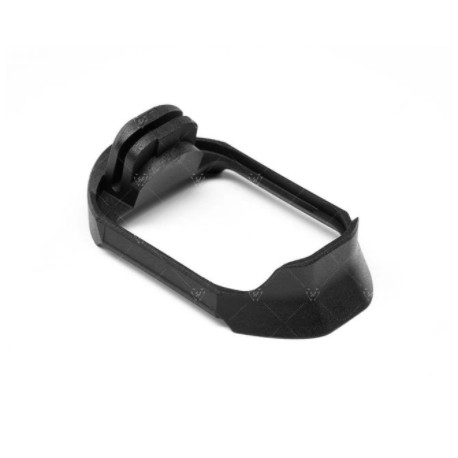 View larger
Strike Industries GEN5 Magwell for GLOCK Gen5 19/23
SI-G5-MAGWELL-19
New product
Warning: Last items in stock!
Availability date:
More info
The Strike Industries GEN5 Magwell for GLOCK™ G19 was designed to provide easier reloading of the magazine while adding SI styling. With the added front lip of the magwell, this SI magwell gives improved grip support. Keeping to the slender factory design of the pistol grip, the benefit of adding a funnel-like magwell to help prevent the dreaded reload bobble outweighs the added material of this SI G5 Magwell. Add consistency and cut fractions of seconds off your reloads now with the Strike Industries GEN5 Magwell for GLOCK™ 19 while comfortably carrying your pistol on your hip or in your waistband. Compatible with most aftermarket magazine base plates and extensions and especially with the SI Extended Magazine Plate (EMP) for GLOCK™ G19.
COMPATIBILITY:
-For GLOCK™ G19/G23 GEN5 w/ and w/o half moon cut
-Designed for the GLOCK™ factory +0 backstrap. Bigger GLOCK™ factory or aftermarket backstraps may need to be modified to possibly work at your own risk
NOT COMPATIBLE: For GLOCK™ 19X
WARNING: DO NOT OVERTIGHTEN set screw when installing the magwell. Overtightening the set screw will throw the magwell alightment off and also damage the magwell and/or firearm. If you are unsure, please contact our customer support team or consult with your local gunsmith.
Information: To buy firearms and essential elements, you must have or be able to obtain a weapon permit (WES/SON/PAA/PAE) in Switzerland according to. (Art. 8 al. 1 LArm and ss and art. 15 al. 1 ss OArm)
If you fulfill this requirement and you purchase a firearm, please send us the WES / PAA to the following address: Dynamik Arms SARL/Gmbh, 124 route d Annecy, 1257 Croix-De-Rozon Suisse
To Buy ammunition, we will need a copy of of less than 2 years old weapon permit (Waffenerwerbschein (WES / PAA)) with the same caliber as the ammo purchased that can be simply sent pdf by e-mail.
WARNING: If you don't have such permit or have doubt on the possibility to obtain one, don't purchase the firearm, essential element or ammunition since we you will have a penalty of 30% of the firearm, essential element or ammunition sum for admin costs.
Leupold Optics: For all Mil/LE and Government Entities only. Please submit valid accreditation
Export notice: Certain items are controlled for export by the International Traffic in Arms Regulations (ITAR). These controls take the form of export regulations and license requirements.