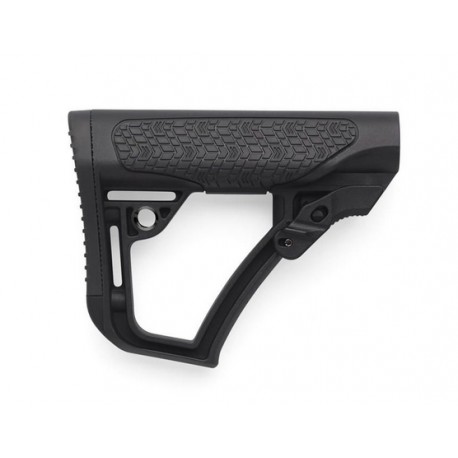 View larger
Daniel Defense Buttstock assembly
New product
Warning: Last items in stock!
Availability date:
More info
The Daniel Defense adjustable buttstock is constructed of a proprietary blend of glass infused polymers and finished off with soft touch rubber overmolding in strategic points. The new buttstock is precision formed for mil-spec receiver extensions to have very little forward or lateral play that is so common in many other buttstocks. This eliminates the need for a tensioning device or friction lock. All of this results in a durable buttstock that will give the shooter a comfortable and repeatable cheek weld and unprecedented control of the firearm. The buttstock can be run with one of two included buttpads or without any buttpad at all to custom fit the rifle to whatever gear the operator must wear. The buttpads come in two sizes: a thicker convex shape (0.8"), and a thinner concave shape (0.5"); designed to keep from snagging when shouldering the rifle. Limited rotation QD swivel attachment points are integrated on both sides of the buttstock for ambidextrous sling connection.
WEIGHTS AND DIMENSIONS
7 Inches Long
5.5 Inches Tall
1.75 Inches Thick
Weight: 0.50 lb
For Mil-Spec receiver extension tubes
Information: To buy firearms and essential elements, you must have or be able to obtain a weapon permit (WES/SON/PAA/PAE) in Switzerland according to. (Art. 8 al. 1 LArm and ss and art. 15 al. 1 ss OArm)
If you fulfill this requirement and you purchase a firearm, please send us the WES / PAA to the following address: Dynamik Arms SARL/Gmbh, 124 route d Annecy, 1257 Croix-De-Rozon Suisse
To Buy ammunition, we will need a copy of of less than 2 years old weapon permit (Waffenerwerbschein (WES / PAA)) with the same caliber as the ammo purchased that can be simply sent pdf by e-mail.
WARNING: If you don't have such permit or have doubt on the possibility to obtain one, don't purchase the firearm, essential element or ammunition since we you will have a penalty of 30% of the firearm, essential element or ammunition sum for admin costs.
Leupold Optics: For all Mil/LE and Government Entities only. Please submit valid accreditation
Export notice: Certain items are controlled for export by the International Traffic in Arms Regulations (ITAR). These controls take the form of export regulations and license requirements.