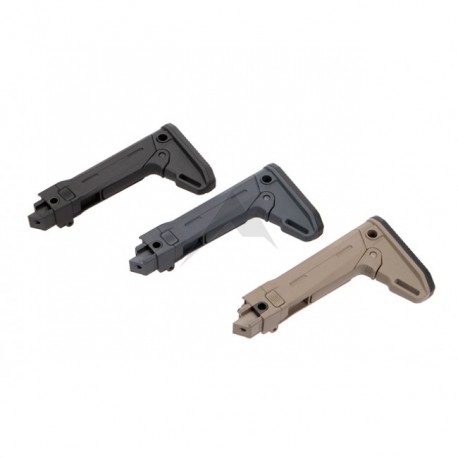 View larger
Magpul Zhukov-S Stock , AK47/AK74
New product
Warning: Last items in stock!
Availability date:
More info
The Magpul Zhukov-S Stock is a no-compromise folding stock for the modern AK. The Zhukov-S Stock casts aside traditional AK stock shortcomings and offers a folding, collapsible stock with QD sling mounts, modular Cheek Risers, and a shock-absorbing rubber butt-pad for superior traction.
The Zhukov-S has right-side folding for compatibility with side-mounted optics. Designed to fit most common stamped AK receivers without modification via a unique wedge block, the durable injection molded polymer Zhukov-S Stock redefines the human interface with the AK platform.
Made in U.S.A.
FEATURES
Mounts to most stamped receiver AK-47/AKM/AK-74 pattern rifles with fixed stock, single tang trunnion*
5-Position length of pull adjustability and solid "fixed stock" lockup with consistent cheek weld in all positions
Adjustment lever is unobtrusive and anti-snag
High strength, wear compensating lock mechanism allows stock to fold to the right
Solid steel hinge pin
Positive detents in the stowed position prevents movement while still allowing the stock to be instantly deployed
Weapon may be charged and fired while stock is folded (without Cheek Risers installed)
Cheek weld combines a slim profile with user comfort and optional snap on AK Cheek Risers are available for use with optics
Rubber butt-pad offers an anti-slip surface and increases impact protection
Rollover on the toe allows for easier shoulder transitions and better fit when using body armor
Sling Mounts

Front – Left-side rotation limited sling mount accepts push-button QD swivels for one-point sling usage (swivel not included)
Rear – Optional Sling Mount Kits (TYPE 1 and TYPE 2) accept push-button QD swivels
Bottom - 1.25" sling loop
*NOTE: Due to the wide range of tolerances of your typical AK, minor fitting of the stock may be required. Not compatible with Yugo pattern AK's or the Norinco Type 56S/MAK-90 due to differences in the trunnion's tang. Also not compatible with traditional milled receiver rifles.
SPECIFICATIONS**
AK Zhukov-S Stock
Weight: 15.0 oz.
Length, from receiver: 8.8-11.4 in.
LOP Adjustment: 5-Position (0.65"/position)
LOP Adjustment Range: 2.6 in.
LOP, Collapsed: ~12.2 in.
LOP, Extended: ~14.8 in.

**Specifications based on factory configuration
Information: To buy firearms and essential elements, you must have or be able to obtain a weapon permit (WES/SON/PAA/PAE) in Switzerland according to. (Art. 8 al. 1 LArm and ss and art. 15 al. 1 ss OArm)
If you fulfill this requirement and you purchase a firearm, please send us the WES / PAA to the following address: Dynamik Arms SARL/Gmbh, 124 route d Annecy, 1257 Croix-De-Rozon Suisse
To Buy ammunition, we will need a copy of of less than 2 years old weapon permit (Waffenerwerbschein (WES / PAA)) with the same caliber as the ammo purchased that can be simply sent pdf by e-mail.
WARNING: If you don't have such permit or have doubt on the possibility to obtain one, don't purchase the firearm, essential element or ammunition since we you will have a penalty of 30% of the firearm, essential element or ammunition sum for admin costs.
Leupold Optics: For all Mil/LE and Government Entities only. Please submit valid accreditation
Export notice: Certain items are controlled for export by the International Traffic in Arms Regulations (ITAR). These controls take the form of export regulations and license requirements.