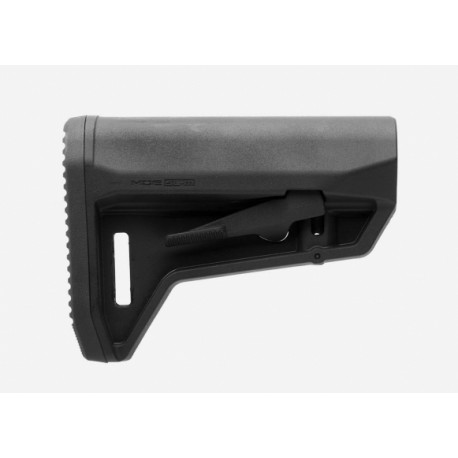 View larger
Magpul MOE SL-M Carbine Stock – Mil-Spec Ultra-Compact PDW Stock
New product
Warning: Last items in stock!
Availability date:
More info
The MOE SL-M Carbine Stock – Mil-Spec is a drop-in replacement buttstock for AR15/M4 Mil-Spec carbine buffer tubes. It was specifically developed for ultra-compact, PDW-style military platform requirements and for users desiring a smaller, lighter stock.
Similar to the SL-K, the SL-M features a shorter and slimmer profile that is optimized for PDW-length receiver extensions. With its small, non-slip rubber butt-pad and an angled toe, the SL-M was engineered to support shoulder transitions, even while wearing body armor and modular gear.
It includes a unique, ambidextrous release latch that is shielded to prevent accidental deployment and minimizes rattle on the receiver extension without requiring additional locks, levers, or springs. The 1.25" footman's loop accepts an optional M-LOK® QD Sling Mount for push-button style QD sling swivels.
Made in the USA.
Information: To buy firearms and essential elements, you must have or be able to obtain a weapon permit (WES/SON/PAA/PAE) in Switzerland according to. (Art. 8 al. 1 LArm and ss and art. 15 al. 1 ss OArm)
If you fulfill this requirement and you purchase a firearm, please send us the WES / PAA to the following address: Dynamik Arms SARL/Gmbh, 124 route d Annecy, 1257 Croix-De-Rozon Suisse
To Buy ammunition, we will need a copy of of less than 2 years old weapon permit (Waffenerwerbschein (WES / PAA)) with the same caliber as the ammo purchased that can be simply sent pdf by e-mail.
WARNING: If you don't have such permit or have doubt on the possibility to obtain one, don't purchase the firearm, essential element or ammunition since we you will have a penalty of 30% of the firearm, essential element or ammunition sum for admin costs.
Leupold Optics: For all Mil/LE and Government Entities only. Please submit valid accreditation
Export notice: Certain items are controlled for export by the International Traffic in Arms Regulations (ITAR). These controls take the form of export regulations and license requirements.