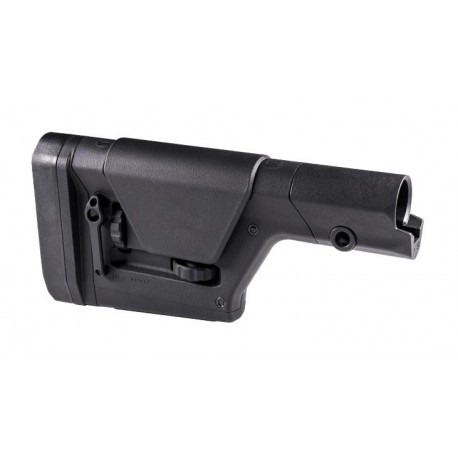 View larger
Magpul PRS® GEN3 Precision-Adjustable Stock AR15/M4/M16/SR25/M110
New product
Warning: Last items in stock!
Availability date:
More info
The PRS GEN3 is a field precision stock for AR15/M16 and AR10/SR25 platforms, featuring tool-less length of pull and cheek piece height adjustment.
With solid adjustments for length of pull and cheek piece height via aluminum detent knobs, the PRS GEN3 (Precision Rifle/Sniper) stock provides a stable interface and is intended for semi-automatic sniper or varmint type rifles. Offering a nearly universal fit, it is optimized for rifle-length receiver extensions but will also mount to many mil-spec carbine and A5-length tubes*. Includes a cant/height-adjustable rubber butt-pad and rotation-limiting QD sling swivel cups as well as M-LOK® slots on the bottom for rear monopod mounting.
Made in U.S.A.
FEATURES
Mounts to rifle-length receiver extension tube without A2 spacer but will also accommodate mil-spec sized M4 Carbine and many A5-length tubes with standard Castle Nuts and End Plates (not included)*
Enhanced strength butt-plate withstands severe impact and recoil up to .50 BMG
Rubber butt-pad provides positive shoulder purchase to prevent slippage and is adjustable for both cant and height
Machined aluminum LOP and Cheek Piece adjustment knobs with positive locking click detents
Steel adjustment shafts finished with Melonite® for wear and corrosion resistance
All aluminum components finished with MIL-A-8625F, Type III, Class 2 hard anodizing
Bottom M-LOK slots provide additional sling mounting possibilities or for attaching 1913 Picatinny rails for use with a monopod
Sling Mounts

Front/Rear - rotation-limited QD sling swivel mounts (swivels not included)
Rear - 1.25" aluminum sling loop (left-right reversible)
*NOTE: Due to the wide variety of designs and dimensions of carbine receiver extensions as well as the associated mounting hardware, proper fit cannot be guaranteed. Mounting to a rifle-length receiver extension is recommended to ensure optimal fit and function.
Information: To buy firearms and essential elements, you must have or be able to obtain a weapon permit (WES/SON/PAA/PAE) in Switzerland according to. (Art. 8 al. 1 LArm and ss and art. 15 al. 1 ss OArm)
If you fulfill this requirement and you purchase a firearm, please send us the WES / PAA to the following address: Dynamik Arms SARL/Gmbh, 124 route d Annecy, 1257 Croix-De-Rozon Suisse
To Buy ammunition, we will need a copy of of less than 2 years old weapon permit (Waffenerwerbschein (WES / PAA)) with the same caliber as the ammo purchased that can be simply sent pdf by e-mail.
WARNING: If you don't have such permit or have doubt on the possibility to obtain one, don't purchase the firearm, essential element or ammunition since we you will have a penalty of 30% of the firearm, essential element or ammunition sum for admin costs.
Leupold Optics: For all Mil/LE and Government Entities only. Please submit valid accreditation
Export notice: Certain items are controlled for export by the International Traffic in Arms Regulations (ITAR). These controls take the form of export regulations and license requirements.