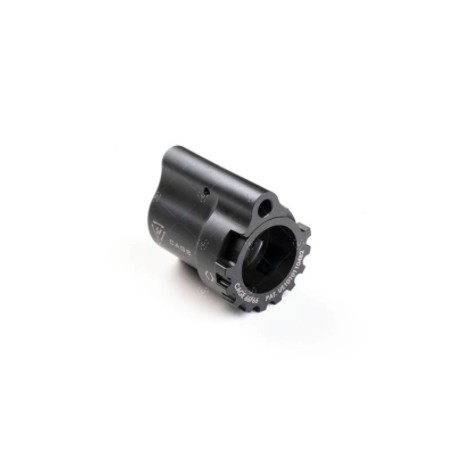 View larger
Strike Industries Collar Adjustable Gas Block
SI-AR-CAGB
New product
Warning: Last items in stock!
Availability date:
More info
Torque: Recommended value for the 3 clamp screws should be no more then 15 in/lbs (1.69 nM)
Traditional adjustable AR gas blocks often require tools to adjust the settings. On top of that, going back to the same settings can be difficult like when switching from suppressed and unsuppressed configurations. Remove the hassle but keep the functionality with Strike Industries' innovative adjustable gas block. Using 5 pre-sized settings and 1 closed setting, easily return to the exact same level of gas flow for your direct impingement system. The gas block easily switches position by rotating the collar by hand or while it's inside a hand guard with a bullet or blade.
Compatibility Mil-Spec barrels that have a gas block stop.
*Use included allen keys for installation. Not doing so may cause set screws to strip. We recommend all parts be installed by a licensed gunsmith. Recommended torque value for the 3 clamp screws should be no more then 15in/lbs.
Information: To buy firearms and essential elements, you must have or be able to obtain a weapon permit (WES/SON/PAA/PAE) in Switzerland according to. (Art. 8 al. 1 LArm and ss and art. 15 al. 1 ss OArm)
If you fulfill this requirement and you purchase a firearm, please send us the WES / PAA to the following address: Dynamik Arms SARL/Gmbh, 124 route d Annecy, 1257 Croix-De-Rozon Suisse
To Buy ammunition, we will need a copy of of less than 2 years old weapon permit (Waffenerwerbschein (WES / PAA)) with the same caliber as the ammo purchased that can be simply sent pdf by e-mail.
WARNING: If you don't have such permit or have doubt on the possibility to obtain one, don't purchase the firearm, essential element or ammunition since we you will have a penalty of 30% of the firearm, essential element or ammunition sum for admin costs.
Leupold Optics: For all Mil/LE and Government Entities only. Please submit valid accreditation
Export notice: Certain items are controlled for export by the International Traffic in Arms Regulations (ITAR). These controls take the form of export regulations and license requirements.