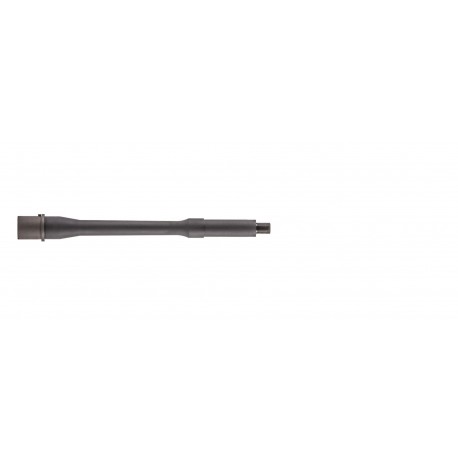 View larger
Daniel Defense Barrel 10.3" 5.56mm, Carbine, 1:7, Government (stripped) Chrome lined, ext. phosphated
07-077-16176-018
New product
Warning: Last items in stock!
Availability date:
More info
10.3" 5.56mm, Carbine, 1:7, GOV
Cold Hammer Forging of barrels has been known for decades to produce the most accurate, longest lasting rifle barrels obtainable. The Cold Hammer Forging of barrels is accomplished through intense hydraulic pressure applied at opposing angles by carbide steel hammers. During the hammering process, a mandrel is inserted into the bore while the carbide steel hammers shape the barrel around the mandrel creating the chamber, the lands, and the grooves. In addition to the aforementioned benefits, the Cold Hammer Forging process creates a defect free bore and the most consistent chamber possible.
| | |
| --- | --- |
| Stripped Barrel | 1.15lbs |
| Barrel w/ LPG | 1.23lbs |
| Barrel w/ FSB | 1.46lbs |
All Daniel Defense cold hammer forged barrels are made from start to finish in our state-of-the-art facility located in Black Creek, GA. In keeping with our heritage of not cutting corners, all cold hammer forged barrels feature a forged chamber and heavy phosphate exterior coating or Salt Bath Nitride Finish. These barrels will prove themselves to be more accurate and last longer than a barrel that has cut or button rifling.
| | |
| --- | --- |
| Caliber | 5.56mm NATO |
| Barrel Length | 10.3" |
| Manuf. Process | Cold Hammer Forged |
| Twist Rate | 1:7 |
| Muzzle Thread | 1⁄2×28 TPI (Threads Per Inch) |
| Material | Chrome Moly Vanadium |
| Outside Finish | Mil-Spec Heavy Phosphate |
| Inside Finish | Chrome |
| Gas System | Carbine Length |
| Diameter At Gas Port | .750″ |
| Barrel Extension | A4 |
| Profile | Government |
| Weight | 1.15 lb |
Information: To buy firearms and essential elements, you must have or be able to obtain a weapon permit (WES/SON/PAA/PAE) in Switzerland according to. (Art. 8 al. 1 LArm and ss and art. 15 al. 1 ss OArm)
If you fulfill this requirement and you purchase a firearm, please send us the WES / PAA to the following address: Dynamik Arms SARL/Gmbh, 124 route d Annecy, 1257 Croix-De-Rozon Suisse
To Buy ammunition, we will need a copy of of less than 2 years old weapon permit (Waffenerwerbschein (WES / PAA)) with the same caliber as the ammo purchased that can be simply sent pdf by e-mail.
WARNING: If you don't have such permit or have doubt on the possibility to obtain one, don't purchase the firearm, essential element or ammunition since we you will have a penalty of 30% of the firearm, essential element or ammunition sum for admin costs.
Leupold Optics: For all Mil/LE and Government Entities only. Please submit valid accreditation
Export notice: Certain items are controlled for export by the International Traffic in Arms Regulations (ITAR). These controls take the form of export regulations and license requirements.