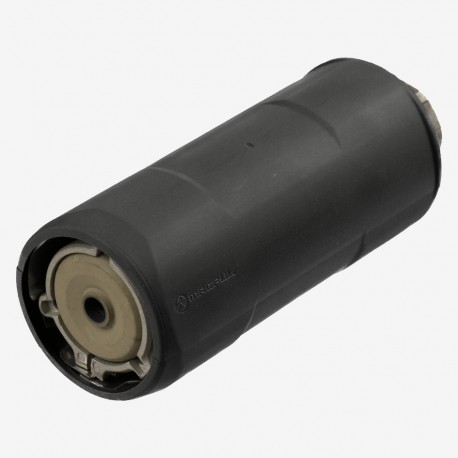 View larger
Magpul Suppressor Cover 5.5"
New product
Warning: Last items in stock!
Availability date:
More info
The Magpul Suppressor Cover - 5.5" is the first product of its kind able to stand up to the extreme temperatures caused by extended strings of semiautomatic and automatic fire to protect the user and equipment against burns while also speeding up the cooling process. Constructed of a heat-resistant polymer sleeve overlaid onto a raised stainless steel heat shield that mounts directly to the suppressor body with steel clamps, the Magpul Suppressor Cover - 5.5" minimizes heat transfer to keep external cover temperatures up to 1000 degrees F cooler than the surface of the suppressor and allows cooling airflow across the can.
Additionally, it serves as an enhanced thermal insulator and signature reduction device, significantly mitigating mirage distortions to the shooter's sight picture, reducing the likelihood of impact damage to the suppressor body, and lessening the chance of accidental heat-related injury or damage to personnel or equipment during weapon firing and cool down. Optimized for 1.5" outer diameter round suppressors with a body length of approximately 5.5" (not including attachment hardware / interface) such as the Surefire SOCOM556-RC2. Other lengths are in the works and are coming soon.
Made in U.S.A.
FEATURES
Extreme temperature protection that mitigates internal suppressor temperatures to safe levels
Minimizes retained heat, allowing faster cooling than any other suppressor cover technology
Reduces thermal signature of host firearm
Mitigates mirage effects in sight picture
Two stainless steel clamps provide a strong, rigid and reliable interface capable of sustained firing sessions and rough handling
High temp polymer sleeve withstands brutal suppressor temperatures during extended periods of firing without deterioration
High strength corrosion resistant stainless steel heat shield
Specs
Weight: 9.6oz
Outer Diameter (OD): 2.5"
Information: To buy firearms and essential elements, you must have or be able to obtain a weapon permit (WES/SON/PAA/PAE) in Switzerland according to. (Art. 8 al. 1 LArm and ss and art. 15 al. 1 ss OArm)
If you fulfill this requirement and you purchase a firearm, please send us the WES / PAA to the following address: Dynamik Arms SARL/Gmbh, 124 route d Annecy, 1257 Croix-De-Rozon Suisse
To Buy ammunition, we will need a copy of of less than 2 years old weapon permit (Waffenerwerbschein (WES / PAA)) with the same caliber as the ammo purchased that can be simply sent pdf by e-mail.
WARNING: If you don't have such permit or have doubt on the possibility to obtain one, don't purchase the firearm, essential element or ammunition since we you will have a penalty of 30% of the firearm, essential element or ammunition sum for admin costs.
Leupold Optics: For all Mil/LE and Government Entities only. Please submit valid accreditation
Export notice: Certain items are controlled for export by the International Traffic in Arms Regulations (ITAR). These controls take the form of export regulations and license requirements.