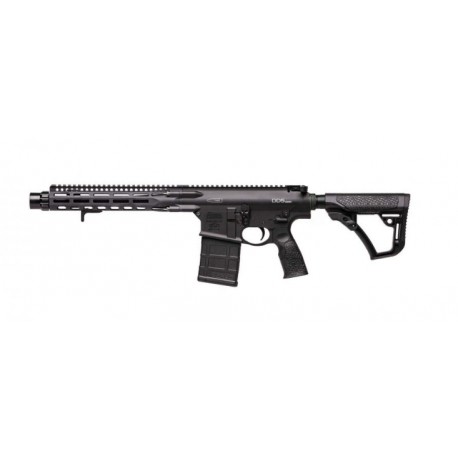 View larger
Daniel Defense DD5 SBR 7.62x51 Black
02-088-06071-047
New product
Warning: Last items in stock!
Availability date:
More info
The DD5 SBR offers all the benefits of the full size rifles, but in a smaller package. This highly accurate and durable rifle is built around a 12.5" barrel, mid-length gas system, an adjustable gas block that allows for a consistent feel whether shooting suppressed or unsuppressed, and features the Daniel Defense Linear Compensator. The perfected bolt carrier group reduces overall recoil impulse and is easy to maintain and operate in all conditions. Designed around a Cold Hammer Forged barrel with an innovative 4-Bolt Connection System, this design dramatically increases the connection surface area between the barrel and upper receiver for increased rigidity/stability to wring out accuracy traditionally only found in high-end bolt action rifles. The DD5 SBR features fully ambi controls and Daniel Defense enhanced furniture.
NFA DISCLAIMER
This firearm is a regulated item by the National Firearms Act (NFA). Please check with your local and state municipalities for any further regulatory requirements. It is the buyer's responsibility to make sure they comply with all NFA rules and applicable laws.
User-adjustable gas block for reliable suppressed shooting
Superfinished and DLC-coated bolt carrier group makes it easy to clean and operate in all conditions
Bolt carrier is equipped with a buffer for optimized cycling and improved recoil impulse
Bolt is designed with enhanced extractor geometry and dual ejectors for reliable cycling
12.5" Cold Hammer Forged proprietary steel chrome-lined barrel for a lifetime of accuracy and durability
Innovative 4-Bolt Connection System to ensure greater accuracy
GRIP-N-RIP independently ambi charging handle with anti-gas features for a better shooting experience

MATERIALS & CONSTRUCTION

LOWER RECEIVER: Enhanced Flared Magazine Well and Rear Receiver QD Swivel Attachment Point. CNC Machined of 7075-T6 Aluminum, Type III Hard Coat Anodized
UPPER RECEIVER: CNC Machined of 7075-T6 Aluminum, Type III Hard Coat Anodized
BARREL: DD Proprietary Steel, Cold Hammer Forged, 1:10" Twist, 12.5″ S2W Profile, Mid-length Gas System, Chrome Lined, Mil-Spec Heavy Phosphate Coated
GAS SYSTEM: User-Adjustable Gas Block CNC Machined of 4140 Hardened Steel and Mil-Spec Heavy Phosphate Coating, Mid-length, Direct Impingement
MUZZLE DEVICE: Daniel Defense Linear Compensator, 17-4 PH Stainless Steel, Salt Bath Nitride Finished
TRIGGER: Daniel Defense Mil-Spec
HANDGUARD: Daniel Defense DD5 Rail 10.5, CNC Machined of 6061-T6 Aluminum, M-LOK Attachment, Type III Hard Coat Anodized
RECEIVER EXTENSION: 6 Position Mil-Spec 7075-T6 Aluminum
BUTTSTOCK: Daniel Defense Buttstock, Glass Filled Polymer with Soft Touch Overmolding
PISTOL GRIP: Daniel Defense Pistol Grip, Glass Filled Polymer with Soft Touch Overmolding
HANDSTOP: Daniel Defense M-LOK Handstop, Anodized Aluminum
MAGAZINES: Accepts All SR-25 Magazines
Made in the USA!

Mounting System
M-LOK
Caliber
7.62 x 51mm / .308 Winchester
Muzzle Thread
5 ⁄ 8 × 24 TPI (Threads Per Inch)
Gas System
Mid-length
Barrel Length
12.5"
Barrel Profile
S2W

®

[Strength-to-Weight]
Product Weight
8.2 lbs
Length
30.38" - 33.63"
Magazine
Magpul PMAG 20-Round
Case
Daniel Defense Full-Latch Impact Plastic Case
Information: To buy firearms and essential elements, you must have or be able to obtain a weapon permit (WES/SON/PAA/PAE) in Switzerland according to. (Art. 8 al. 1 LArm and ss and art. 15 al. 1 ss OArm)
If you fulfill this requirement and you purchase a firearm, please send us the WES / PAA to the following address: Dynamik Arms SARL/Gmbh, 124 route d Annecy, 1257 Croix-De-Rozon Suisse
To Buy ammunition, we will need a copy of of less than 2 years old weapon permit (Waffenerwerbschein (WES / PAA)) with the same caliber as the ammo purchased that can be simply sent pdf by e-mail.
WARNING: If you don't have such permit or have doubt on the possibility to obtain one, don't purchase the firearm, essential element or ammunition since we you will have a penalty of 30% of the firearm, essential element or ammunition sum for admin costs.
Leupold Optics: For all Mil/LE and Government Entities only. Please submit valid accreditation
Export notice: Certain items are controlled for export by the International Traffic in Arms Regulations (ITAR). These controls take the form of export regulations and license requirements.