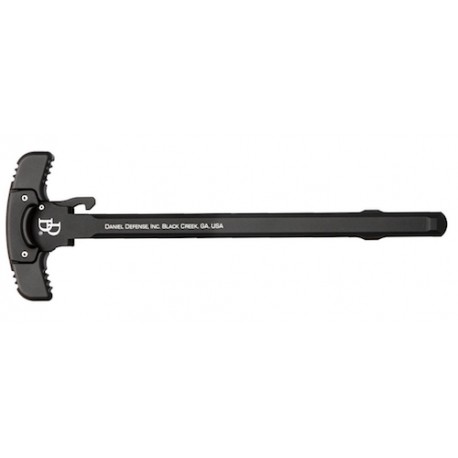 View larger
Daniel Defense GRIP-N-RIP AR-10 Ambi Charging Handle
04-013-04129-006
New product
Warning: Last items in stock!
Availability date:
More info
The Daniel Defense GRIP-N-RIP AR-15 Charging Handle was designed and manufactured with the features and benefits to enhance every user's comfort and performance. The GRIP-N-RIP AR-15 Charging Handle is engineered for suppressed fire, with anti-gas features that redirect gas flow upward and away from the face and away from the operator. Independently ambidextrous handles accommodate left- and right-handed shooters with each handle independently operating the latch. The AR-15 Charging Handle option fits all AR-15 pattern rifles, and the 7.62 option fits all DD5 GEN II (V3,V4,V5) firearms (not compatible with DD5 V1 or V2) and all DPMS Gen 1 length AR-10 rifles.
Key Features
Lightweight enlarged ergonomic handles made from 6061-T6 aluminum and Type III hard coat anodized
Main body machined from 7075-T6 aluminum & type III hard coat anodized
Latch is made from 6061-T6 aluminum & Type III hard coat anodized
Heavy duty stainless steel roll pins
Made in the U.S.A.
Information: To buy firearms and essential elements, you must have or be able to obtain a weapon permit (WES/SON/PAA/PAE) in Switzerland according to. (Art. 8 al. 1 LArm and ss and art. 15 al. 1 ss OArm)
If you fulfill this requirement and you purchase a firearm, please send us the WES / PAA to the following address: Dynamik Arms SARL/Gmbh, 124 route d Annecy, 1257 Croix-De-Rozon Suisse
To Buy ammunition, we will need a copy of of less than 2 years old weapon permit (Waffenerwerbschein (WES / PAA)) with the same caliber as the ammo purchased that can be simply sent pdf by e-mail.
WARNING: If you don't have such permit or have doubt on the possibility to obtain one, don't purchase the firearm, essential element or ammunition since we you will have a penalty of 30% of the firearm, essential element or ammunition sum for admin costs.
Leupold Optics: For all Mil/LE and Government Entities only. Please submit valid accreditation
Export notice: Certain items are controlled for export by the International Traffic in Arms Regulations (ITAR). These controls take the form of export regulations and license requirements.