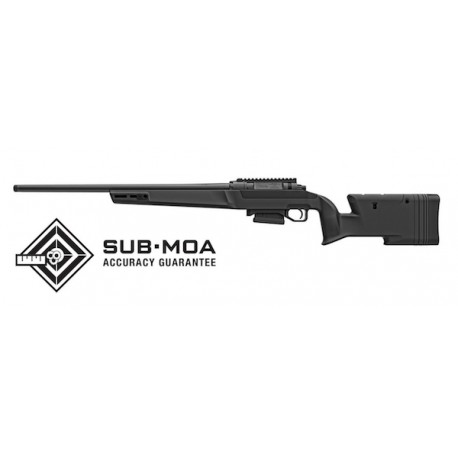 View larger
Daniel Defense DELTA 5 .6.5 Creedmoor
42-159-07365
New product
Warning: Last items in stock!
Availability date:
More info
Designed with the users in mind. Daniel Defense has taken the modularity of the AR platform and integrated it into a one-of-a-kind bolt action rifle. From an interchangeable cold hammer forged barrel to a user-configurable stock, the DELTA 5 features out-of-the-box customization that would normally require professional gunsmithing. Designed for the user that expects more from their rifle, the DELTA 5 provides the ultimate long range shooting experience from the day its purchased. No custom wait time required. Get an in-depth look at the DELTA 5 at Delta5.DanielDefense.com.
ACCURACY. GUARANTEED.
GUARANTEED TO SHOOT .75 MOA OR LESS. Talk is cheap—including talk about how accurate a rifle shoots—so we're putting some real firepower behind our words. All Daniel Defense DELTA 5 rifles are guaranteed to shoot .75 MOA or less at 100 yards when used with quality factory match-grade ammunition. Not "should"; not "might." Guaranteed to. How can we make such a claim? Because we've done the work and the testing to back it up. It's not just talk; it's not bravado. It's science backed up by data. Data that says, "If we can do it, so can you." Guaranteed.
MATERIALS & CONSTRUCTION
BARREL: User-interchangeable, stainless steel cold hammer forged to contour
ACTION: Mechanically bedded stainless steel action with integral recoil lug
BOLT: Three-lug bolt with a 60 degree throw and floating bolt head
BOLT KNOB: 5/16 - 24" removable bolt knob
TRIGGER: Adjustable single stage Timney Elite Hunter with two position safety (1.5 – 4 lbs)
PICATINNY SCOPE BASE: 20 MOA/ 5.8 MRAD of elevation with four #10-32 bolts
BOTTOM METAL: Integrated with pillars and barrier stop
ERGONOMIC STOCK: Constructed of carbon-fiber-reinforced polymer
ADJUSTABLE CHEEK RISER: For preferred height, yaw, and drift
CONFIGURABLE BUTTSTOCK: Offers length of pull and butt pad height adjustments
ATTACHMENT: 14 total M-LOK points along forend with one point on bottom of buttstock
QUICK DETACH: Three M-LOK QD sling points
CAPACITY: Five round PMAG 5 7.62 AC – AICS Short Action magazine included.
| | |
| --- | --- |
| Mounting System | M-LOK |
| Caliber | 6.5 Creedmoor |
| Muzzle Thread | 5⁄8×24 TPI (Threads Per Inch) |
| Gas System | Carbine |
| Barrel Length | 24" |
| Barrel Profile | Heavy Palma |
| Product Weight | 9.5 lbs |
| Length | 44" Max |
| Magazine | Magpul PMAG 5 7.62 AC |
| Case | Daniel Defense Full-Latch Impact Plastic Case |
Information: To buy firearms and essential elements, you must have or be able to obtain a weapon permit (WES/SON/PAA/PAE) in Switzerland according to. (Art. 8 al. 1 LArm and ss and art. 15 al. 1 ss OArm)
If you fulfill this requirement and you purchase a firearm, please send us the WES / PAA to the following address: Dynamik Arms SARL/Gmbh, 124 route d Annecy, 1257 Croix-De-Rozon Suisse
To Buy ammunition, we will need a copy of of less than 2 years old weapon permit (Waffenerwerbschein (WES / PAA)) with the same caliber as the ammo purchased that can be simply sent pdf by e-mail.
WARNING: If you don't have such permit or have doubt on the possibility to obtain one, don't purchase the firearm, essential element or ammunition since we you will have a penalty of 30% of the firearm, essential element or ammunition sum for admin costs.
Leupold Optics: For all Mil/LE and Government Entities only. Please submit valid accreditation
Export notice: Certain items are controlled for export by the International Traffic in Arms Regulations (ITAR). These controls take the form of export regulations and license requirements.