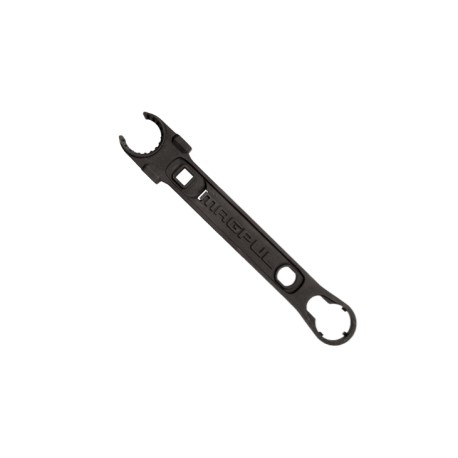 View larger
Magpul™ Armorer's Wrench – AR15/M4
MAG535
New product
Warning: Last items in stock!
Availability date:
More info
American-made, solid steel construction with grip-enhancing phosphate finish engages both stock and pin-style barrel nuts. Fits standard sized flash hiders. Installs and removes rifle receiver extensions and carbine castle nuts, with extended teeth for use with ASAP plates. Two hammer faces. Works with 1/2" torque wrench, relevant torque specifications included on Wrench for quick reference. Convenient Bottle Opener for refreshments after the build is complete (fits both Metric and SAE bottle caps.)

Made in U.S.A.
Features
American-made with US steel
Heat-treated steel construction with manganese phosphate finish
USGI barrel nut wrench
Free-float tube barrel nut wrench
1/2" torque wrench/breaker bar interface
Armorer's hammer
Rifle-length/Entry-length receiver extension wrench
USGI castle nut wrench*, usable with aftermarket end plates such as the ASAP® and ASAP®-QD
3/4" wrench for most flash hiders/muzzle brakes
USGI torque spec references
Bottle opener
Specifications
Armorer's Wrench – AR15/M4

Weight: 1.1 lb.
Length, maximum: 11.7 in.
Handle Thickness: 0.35 in.
NOTE: Not compatible with larger pistol-style reciever extension tubes
Information: To buy firearms and essential elements, you must have or be able to obtain a weapon permit (WES/SON/PAA/PAE) in Switzerland according to. (Art. 8 al. 1 LArm and ss and art. 15 al. 1 ss OArm)
If you fulfill this requirement and you purchase a firearm, please send us the WES / PAA to the following address: Dynamik Arms SARL/Gmbh, 124 route d Annecy, 1257 Croix-De-Rozon Suisse
To Buy ammunition, we will need a copy of of less than 2 years old weapon permit (Waffenerwerbschein (WES / PAA)) with the same caliber as the ammo purchased that can be simply sent pdf by e-mail.
WARNING: If you don't have such permit or have doubt on the possibility to obtain one, don't purchase the firearm, essential element or ammunition since we you will have a penalty of 30% of the firearm, essential element or ammunition sum for admin costs.
Leupold Optics: For all Mil/LE and Government Entities only. Please submit valid accreditation
Export notice: Certain items are controlled for export by the International Traffic in Arms Regulations (ITAR). These controls take the form of export regulations and license requirements.