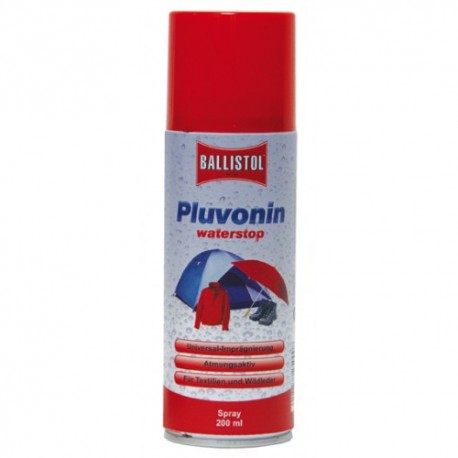 View larger
Ballistol Pluvonin 200ml
New product
Warning: Last items in stock!
Availability date:
More info
Pluvonin (waterproofing spray)
Pluvonin offers extreme water and dirt proofing and repellent coating for all natural and synthetic fabrics as well as leather on the basis of the very latest technology. All textiles and natural leathers are cared for and waterproofed, including those subjects to the toughest weather conditions. Tents, tarpaulins, sails, awnings, parasols and umbrellas are protected, just as coats, anoraks, jumpers, rain, ski and sports wear, shoes and rucksacks also are. Spillages such as coffee, tea, red wine or cola simply roll off the fabric. Pluvonin surrounds every fibre with an invisible, UV and temperature stable breathable protective coating. Dry dirt no longer sticks to the fibres; wet dirt is no longer absorbed. Pluvonin is ideal for hunters, anglers and anyone who is subject to wind or the weather in their work or recreation
Information: To buy firearms and essential elements, you must have or be able to obtain a weapon permit (WES/SON/PAA/PAE) in Switzerland according to. (Art. 8 al. 1 LArm and ss and art. 15 al. 1 ss OArm)
If you fulfill this requirement and you purchase a firearm, please send us the WES / PAA to the following address: Dynamik Arms SARL/Gmbh, 124 route d Annecy, 1257 Croix-De-Rozon Suisse
To Buy ammunition, we will need a copy of of less than 2 years old weapon permit (Waffenerwerbschein (WES / PAA)) with the same caliber as the ammo purchased that can be simply sent pdf by e-mail.
WARNING: If you don't have such permit or have doubt on the possibility to obtain one, don't purchase the firearm, essential element or ammunition since we you will have a penalty of 30% of the firearm, essential element or ammunition sum for admin costs.
Leupold Optics: For all Mil/LE and Government Entities only. Please submit valid accreditation
Export notice: Certain items are controlled for export by the International Traffic in Arms Regulations (ITAR). These controls take the form of export regulations and license requirements.