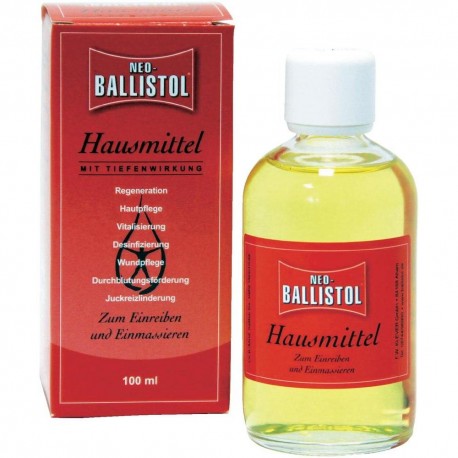 View larger
Ballistol Neo Ballistol Remedy / Hausmittel 100ml
New product
Warning: Last items in stock!
Availability date:
More info
The insider's tip of the household remedies consists of time-proven natural ingredients and medically pure white mineral oil. It is still produced in exactly the same composition today as it was 70 years ago. Through its ingredients and its careful manufacture, it regenerates the skin, making it soft and supple. Many hospitals use it in the prevention of bedsores with patients who spend a long time in bed.
It also acts against calluses and brittleness in the nails. Rubbing your feet with NEO BALLISTOL home remedy prevents the formation of blisters. With small wounds it has a disinfecting effect, supporting rapid healing. It is also ideal as a lip balm and for care after shaving. As a massage oil, it effectively promotes circulation in the skin and the muscles.
Numerous customer reports demonstrate that the NEO BALLISTOL home remedy traditionally works very effectively in all possible instances. It is ideally taken on holiday and should never be missing from your home medicine cabinet. It is also used in digestion problems, for wound healing and for first aid during expeditions. NEO BALLISTOL home remedy has been given a 'very good' rating in all dermatological tests.
Information: To buy firearms and essential elements, you must have or be able to obtain a weapon permit (WES/SON/PAA/PAE) in Switzerland according to. (Art. 8 al. 1 LArm and ss and art. 15 al. 1 ss OArm)
If you fulfill this requirement and you purchase a firearm, please send us the WES / PAA to the following address: Dynamik Arms SARL/Gmbh, 124 route d Annecy, 1257 Croix-De-Rozon Suisse
To Buy ammunition, we will need a copy of of less than 2 years old weapon permit (Waffenerwerbschein (WES / PAA)) with the same caliber as the ammo purchased that can be simply sent pdf by e-mail.
WARNING: If you don't have such permit or have doubt on the possibility to obtain one, don't purchase the firearm, essential element or ammunition since we you will have a penalty of 30% of the firearm, essential element or ammunition sum for admin costs.
Leupold Optics: For all Mil/LE and Government Entities only. Please submit valid accreditation
Export notice: Certain items are controlled for export by the International Traffic in Arms Regulations (ITAR). These controls take the form of export regulations and license requirements.