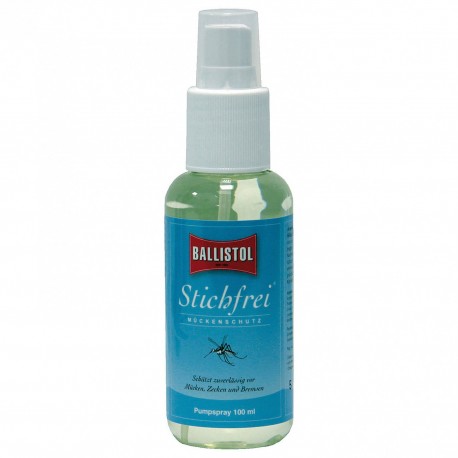 View larger
Ballistol Sting free/ Stichfrei 100ml
New product
Warning: Last items in stock!
Availability date:
More info
Stingfree
Stingfree protects for up to six hours against irksome insect bites such as from gnats, stinging flies, gadflies, mosquitoes, sandflies, tropical mopane-flies and tsetse flies.
Just spray it on your skin and forget about gnats and gadflies. Stingfree has been tested for its toxicological harmlessness and is successfully used on all continents: Be it in the tropical jungles of Brazil, the gnat-ridden forests of Finland, the subtropical rainwoods of the Himalayas, Africa or the subtropical zone of Australia, Stingfree convinced its users in any part of our world.

Due to the plant oils that it contains, Stingfree, with its pleasant smell, also cares for your skin and protects it against dehydration. The UV-B filter that it contains also protects your skin against sunburn. Together with the insect repellent, it is the ideal combination for anglers, hikers, bathing beauties and sun worshipers. Permitted for general sale in Switzerland under BAG T No. 79557. Stingfree has been awarded with the distinction of 'very good' in all dermatological tests.
Information: To buy firearms and essential elements, you must have or be able to obtain a weapon permit (WES/SON/PAA/PAE) in Switzerland according to. (Art. 8 al. 1 LArm and ss and art. 15 al. 1 ss OArm)
If you fulfill this requirement and you purchase a firearm, please send us the WES / PAA to the following address: Dynamik Arms SARL/Gmbh, 124 route d Annecy, 1257 Croix-De-Rozon Suisse
To Buy ammunition, we will need a copy of of less than 2 years old weapon permit (Waffenerwerbschein (WES / PAA)) with the same caliber as the ammo purchased that can be simply sent pdf by e-mail.
WARNING: If you don't have such permit or have doubt on the possibility to obtain one, don't purchase the firearm, essential element or ammunition since we you will have a penalty of 30% of the firearm, essential element or ammunition sum for admin costs.
Leupold Optics: For all Mil/LE and Government Entities only. Please submit valid accreditation
Export notice: Certain items are controlled for export by the International Traffic in Arms Regulations (ITAR). These controls take the form of export regulations and license requirements.