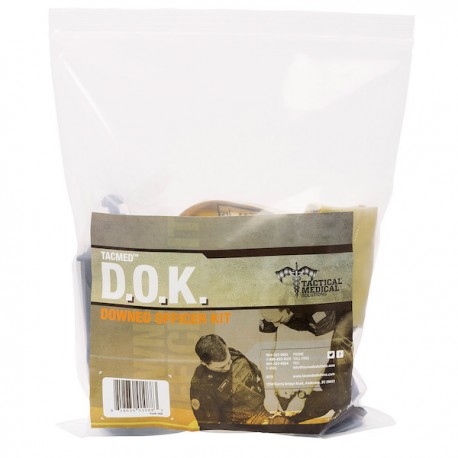 View larger
DOK (Down Operator Kit)
DOK
New product
Warning: Last items in stock!
Availability date:
More info
The TacMed™ Downed Officer Kit is a compact kit that contains the items essential for treatment of serious injuries encountered by law enforcement and military personnel. The DOK is compact enough to fit in a cargo pocket or glove box. It can also mount to a roll bar/ protective shield in a patrol car or tactical vehicle.

The DOK is packed in a heavyweight re-sealable bag allowing easy replacement of individual kit items. Kit components can also be periodically inspected without damaging the integrity of the packaging. The officer down kit contents can be modified to meet your individual requirements or several pre-packed kits are available with or without hemostatic agents.

Standard Contents:
Each OLAES® Bandage contains:

3 meters of sterile 4 ply gauze
Plastic occlusive sheet included in dressing pocket
Transparent pressure cup that focuses pressure on the wound and acts as an eye cup for treatment of eye injuries

1x Face Shield
1PR Nitrile Gloves
1x 2" Surgical Tape
1x 5.5" Trauma Shears

Dimensions: 7" W x 7" L x 3" thick
Information: To buy firearms and essential elements, you must have or be able to obtain a weapon permit (WES/SON/PAA/PAE) in Switzerland according to. (Art. 8 al. 1 LArm and ss and art. 15 al. 1 ss OArm)
If you fulfill this requirement and you purchase a firearm, please send us the WES / PAA to the following address: Dynamik Arms SARL/Gmbh, 124 route d Annecy, 1257 Croix-De-Rozon Suisse
To Buy ammunition, we will need a copy of of less than 2 years old weapon permit (Waffenerwerbschein (WES / PAA)) with the same caliber as the ammo purchased that can be simply sent pdf by e-mail.
WARNING: If you don't have such permit or have doubt on the possibility to obtain one, don't purchase the firearm, essential element or ammunition since we you will have a penalty of 30% of the firearm, essential element or ammunition sum for admin costs.
Leupold Optics: For all Mil/LE and Government Entities only. Please submit valid accreditation
Export notice: Certain items are controlled for export by the International Traffic in Arms Regulations (ITAR). These controls take the form of export regulations and license requirements.