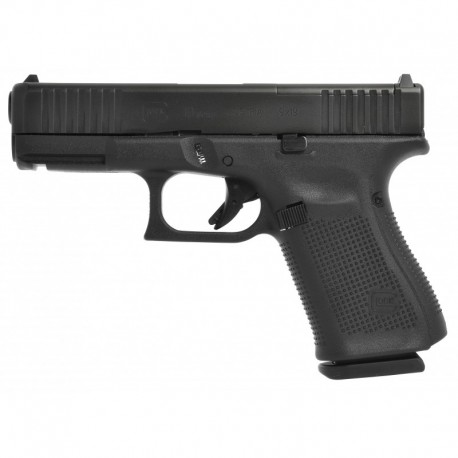 View larger
Glock 19 Gen5 FS MOS Threaded Barrel M13.5x1L 9x19mm Para - Black
New product
Warning: Last items in stock!
Availability date:
More info
G19 Gen5 MOS - Modular Optic System for Gen5
With the G19 Gen5 MOS GLOCK enhances the desirability of the already near-perfect Gen5 model with the addition of the Modular Optic System (MOS). The slide is precision machined to provide a mounting system for popular optic sights. With multiple adapter plates, you can quickly and easily mount miniature electronic sights to the rear of the Gen5 GLOCK slide, which has front serrations for easier and quicker manipulations.
All of the Gen5 qualities are present in this compact-size pistol: The latest GLOCK nDLC surface finish on the major metal components, unmatched in hardness and rust resistance; the high traction Gen5 frame texture, quickly reversible magazine catch, ambidextrous slide stop lever, the GLOCK Modular Backstrap System (MBS) for individual operator adjustability, the universally-acclaimed GLOCK Safe Action® System and high visibility orange magazine followers.
Information: To buy firearms and essential elements, you must have or be able to obtain a weapon permit (WES/SON/PAA/PAE) in Switzerland according to. (Art. 8 al. 1 LArm and ss and art. 15 al. 1 ss OArm)
If you fulfill this requirement and you purchase a firearm, please send us the WES / PAA to the following address: Dynamik Arms SARL/Gmbh, 124 route d Annecy, 1257 Croix-De-Rozon Suisse
To Buy ammunition, we will need a copy of of less than 2 years old weapon permit (Waffenerwerbschein (WES / PAA)) with the same caliber as the ammo purchased that can be simply sent pdf by e-mail.
WARNING: If you don't have such permit or have doubt on the possibility to obtain one, don't purchase the firearm, essential element or ammunition since we you will have a penalty of 30% of the firearm, essential element or ammunition sum for admin costs.
Leupold Optics: For all Mil/LE and Government Entities only. Please submit valid accreditation
Export notice: Certain items are controlled for export by the International Traffic in Arms Regulations (ITAR). These controls take the form of export regulations and license requirements.