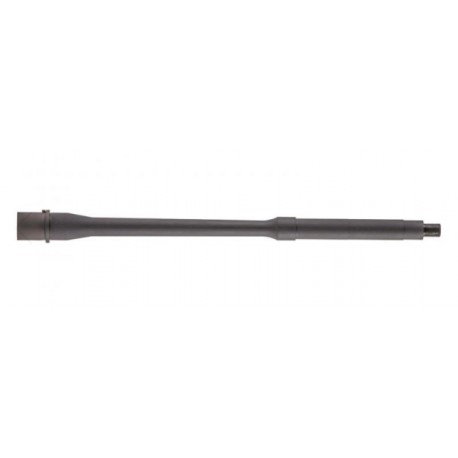 View larger
Daniel Defense Barrel Assy, CMV, CHF, 5.56, 1:7, 14.5", GOV, MID
07-077-19125-018
New product
Warning: Last items in stock!
Availability date:
More info
Our 14.5" 5.56 barrel is the most accurate and longest lasting barrel attainable for your AR-15 build. We Cold Hammer Forge our barrels, a process that sets us apart from other barrel manufacturers. The 14.5" Government profile barrel is forged from 4150 Chrome Moly Vanadium steel, Mil-spec heavy phosphate coated and chrome lined with mid-length gas system.
| | |
| --- | --- |
| Caliber | 5.56mm NATO |
| Barrel Length | 14.5" |
| Manuf. Process | Cold Hammer Forged |
| Twist Rate | 1:7 |
| Muzzle Thread | 1 ⁄ 2 × 28 TPI (Threads Per Inch) |
| Material | Chrome Moly Vanadium |
| Outside Finish | Mil-Spec Heavy Phosphate |
| Inside Finish | Chrome |
| Gas System | Mid-length |
| Diameter At Gas Port | .750″ |
| Barrel Extension | A4 |
| Barrel Profile | Government |
| Weight | 1.50lbs |
Information: To buy firearms and essential elements, you must have or be able to obtain a weapon permit (WES/SON/PAA/PAE) in Switzerland according to. (Art. 8 al. 1 LArm and ss and art. 15 al. 1 ss OArm)
If you fulfill this requirement and you purchase a firearm, please send us the WES / PAA to the following address: Dynamik Arms SARL/Gmbh, 124 route d Annecy, 1257 Croix-De-Rozon Suisse
To Buy ammunition, we will need a copy of of less than 2 years old weapon permit (Waffenerwerbschein (WES / PAA)) with the same caliber as the ammo purchased that can be simply sent pdf by e-mail.
WARNING: If you don't have such permit or have doubt on the possibility to obtain one, don't purchase the firearm, essential element or ammunition since we you will have a penalty of 30% of the firearm, essential element or ammunition sum for admin costs.
Leupold Optics: For all Mil/LE and Government Entities only. Please submit valid accreditation
Export notice: Certain items are controlled for export by the International Traffic in Arms Regulations (ITAR). These controls take the form of export regulations and license requirements.