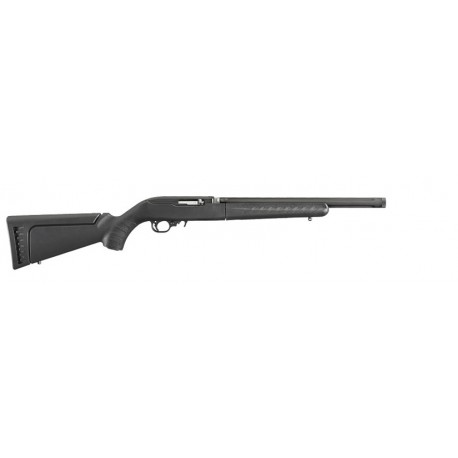 View larger
fusil RUGER 10/22 , Takedown, cal 22LR , threaded
New product
Warning: Last items in stock!
Availability date:
More info
Thread Pattern

1/2"-28

Capacity

10

Twist

1:16" RH

Finish

Satin Black
Overall Length

34.62"

Barrel Length

16.12"

Weight

5.3 lb.

Grooves

6

Easy takedown enables quick separation of the barrel from the action for ease of transportation and storage. Takedown is as simple as locking the bolt back and verifying that the rifle is unloaded, pushing a recessed lever, twisting the subassemblies and pulling them apart.

Simple reassembly allows for a secure connection of the barrel and action and returns the firearm to zero, even when receiver-mounted optics are used, ensuring consistent accuracy, shot after shot.

Patented, detachable 10-round rotary magazine features a unique rotor to separate cartridges and provide reliable feeding.

Legendary action, a tried and true Ruger design, ensures consistent, reliable performance.

Combination scope base adapter for both Weaver-style and .22 tip-off scope mounts included.

Easy-to-use extended magazine release provides smooth, no-fuss removal of flush-mounted magazine

Positive, push-button, cross-bolt manual safety.

Heat-stabilized, glass-filled, polymer trigger housing assembly is precision-made of high-tech material for improved manufacturing tolerances, impact and abrasion-resistance and unmatched ability to withstand the elements.

Precision-rifled, cold hammer-forged barrel with .920" diameter target barrel that is fluted for weight reduction, features a 1/2"-28 threaded muzzle and is fitted with a thread protector.

Also includes: Convenient carry-case, which provides ample storage room for magazines and accessories.

Features the Ruger® Modular Stock System with a low comb, standard length of pull and a threaded, fluted target barrel (ships with an additional high comb, standard length of pull stock module).
Information: To buy firearms and essential elements, you must have or be able to obtain a weapon permit (WES/SON/PAA/PAE) in Switzerland according to. (Art. 8 al. 1 LArm and ss and art. 15 al. 1 ss OArm)
If you fulfill this requirement and you purchase a firearm, please send us the WES / PAA to the following address: Dynamik Arms SARL/Gmbh, 124 route d Annecy, 1257 Croix-De-Rozon Suisse
To Buy ammunition, we will need a copy of of less than 2 years old weapon permit (Waffenerwerbschein (WES / PAA)) with the same caliber as the ammo purchased that can be simply sent pdf by e-mail.
WARNING: If you don't have such permit or have doubt on the possibility to obtain one, don't purchase the firearm, essential element or ammunition since we you will have a penalty of 30% of the firearm, essential element or ammunition sum for admin costs.
Leupold Optics: For all Mil/LE and Government Entities only. Please submit valid accreditation
Export notice: Certain items are controlled for export by the International Traffic in Arms Regulations (ITAR). These controls take the form of export regulations and license requirements.