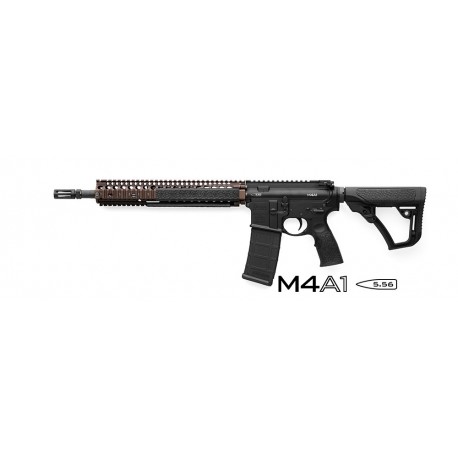 View larger
Daniel Defense DDM4 M4A1 RISII 14.5" FDE
02-088-06027-011
New product
Warning: Last items in stock!
Availability date:
More info
The Daniel Defense M4A1 features the M4A1 RIS II, which has been in use by US Special Operations Command (SOCOM) for the SOPMOD II Weapons System since 2005. The M4A1 features a 14.5" Cold Hammer Forged M4 Profile barrel with a permanently attached Daniel Defense Flash Suppressor. This rifle also comes with the newly designed, rugged and comfortable Daniel Defense Buttstock and Pistol Grip.
MATERIALS & CONSTRUCTION
LOWER RECEIVER: Mil-Spec with Enhanced Flared Magazine Well and Rear Receiver QD Swivel Attachment Point. CNC Machined of 7075-T6 Aluminum, Type III Hard Coat Anodized
UPPER RECEIVER: Mil-Spec with Indexing Marks and M4 Feed Ramps. CNC Machined of 7075-T6 Aluminum, Type III Hard Coat Anodized
BARREL: Chrome Moly Vanadium Steel, Cold Hammer Forged, 1:7 twist, 14.5″ M4 Profile, Chrome Lined, and Mil-Spec Heavy Phosphate coated
GAS SYSTEM: Pinned Low Profile Gas Block CNC Machined of 4140 hardened steel with Mil-Spec Heavy Phosphate Coating, Carbine length, Direct Impingement
MUZZLE DEVICE: Pinned and Welded Daniel Defense Flash Suppressor, 17-4 PH Stainless Steel, Salt Bath Nitride Finished
BOLT CARRIER GROUP: M16 Profile, Chrome Lined, Properly Staked Gas Key
BUFFER: H Buffer
SIGHTS: Sold Separately
HANDGUARD: Daniel Defense M4A1 Rail Interface System (RIS) II, CNC Machined of 6061-T6 Aluminum, Type III Hard Coat Anodized FDE
RECEIVER EXTENSION: 6 Position Mil-Spec 7075-T6 Aluminum
BUTTSTOCK: Daniel Defense Buttstock, Glass Filled Polymer with Soft Touch Overmolding
PISTOL GRIP: Daniel Defense Pistol Grip, Glass Filled Polymer with Soft Touch Overmolding
RAIL PANELS: Daniel Defense Rail Panels made from Santoprene, heat resistant to 300° F.
Made in the USA!
WARRANTY STATEMENT
All Daniel Defense products carry a 100% satisfaction guarantee against defects in original materials and workmanship. If your Daniel Defense product shows evidence of such defects, Daniel Defense will make every accommodation to fix, repair, or replace your product in the most expeditious manner possible. Daniel Defense does not warranty products or damage caused to our products by the correct or incorrect installation of other manufacturer's products. Be sure to retain your sales slip as proof of purchase date when making a claim.
Additional Information
| | |
| --- | --- |
| Manufacturing # / SKU | 02-088-06027-011 |
| Restricted Shipping | Yes |
| Caliber | 5.56mm NATO |
| Gas System | Carbine |
| Product Weight | 6.74 lbs |
| Length | 31 ½" – 34 ¾" |
| Magazine | Magpul PMAG 30-Round |
| Case | Daniel Defense Full-Latch Impact Plastic Case |
| Manufacturer | Daniel Defense |
Information: To buy firearms and essential elements, you must have or be able to obtain a weapon permit (WES/SON/PAA/PAE) in Switzerland according to. (Art. 8 al. 1 LArm and ss and art. 15 al. 1 ss OArm)
If you fulfill this requirement and you purchase a firearm, please send us the WES / PAA to the following address: Dynamik Arms SARL/Gmbh, 124 route d Annecy, 1257 Croix-De-Rozon Suisse
To Buy ammunition, we will need a copy of of less than 2 years old weapon permit (Waffenerwerbschein (WES / PAA)) with the same caliber as the ammo purchased that can be simply sent pdf by e-mail.
WARNING: If you don't have such permit or have doubt on the possibility to obtain one, don't purchase the firearm, essential element or ammunition since we you will have a penalty of 30% of the firearm, essential element or ammunition sum for admin costs.
Leupold Optics: For all Mil/LE and Government Entities only. Please submit valid accreditation
Export notice: Certain items are controlled for export by the International Traffic in Arms Regulations (ITAR). These controls take the form of export regulations and license requirements.