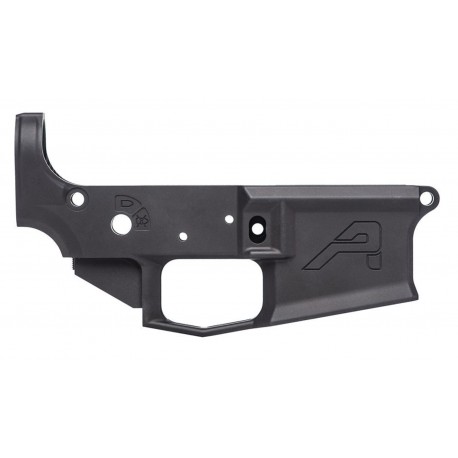 View larger
Aero Precision M4E1 Lower Receiver Stripped
New product
Warning: Last items in stock!
Availability date:
More info
The M4E1 Lower Receiver delivers billet aesthetics in a forged package. This custom designed enhanced forging is machined from 7075-T6 Aluminum and compatible with all mil-spec AR15 parts. Aside from the visual upgrades this custom engineered design provides that challenge much more expensive billet options, we have added several functional features to the lower receiver to simplify the assembly process for the at home builder.
M4E1 Lower Receiver Improvements:
Threaded Bolt Catch Roll Pin - Allows for simple installation of the bolt catch and virtually eliminates the chance to damage the finish during installation (pin included). 1/16" Hex Key required for assembly.
Integrated Trigger Guard - Eliminates the possibility of breaking the trigger guard tabs by integrating the trigger guard into the lower, creating a stronger more rigid platform to build upon.
Upper Tension Screw - Allows users to fine tune the fit of the upper and lower receiver using a nylon tipped tensioning set screw inserted in the grip tang of the lower receiver. This provides a tight fit with any standard AR15 upper receiver.
Threaded Takedown Pin Detent Recess - Allows user to easily install the Takedown Pin detent and spring with the use of a 4-40 set screw (no more launching detents across the room).
Increased Magwell Flare - Increased the flare of the magwell to aid in quick and efficient magazine changes.
Marked and milled to accept short-throw safety selectors, but will work with standard selectors as well.
Includes:
Stripped M4E1 Lower Receiver
Nylon tipped tensioning set screw
Threaded Bolt Catch Pin
Information: To buy firearms and essential elements, you must have or be able to obtain a weapon permit (WES/SON/PAA/PAE) in Switzerland according to. (Art. 8 al. 1 LArm and ss and art. 15 al. 1 ss OArm)
If you fulfill this requirement and you purchase a firearm, please send us the WES / PAA to the following address: Dynamik Arms SARL/Gmbh, 124 route d Annecy, 1257 Croix-De-Rozon Suisse
To Buy ammunition, we will need a copy of of less than 2 years old weapon permit (Waffenerwerbschein (WES / PAA)) with the same caliber as the ammo purchased that can be simply sent pdf by e-mail.
WARNING: If you don't have such permit or have doubt on the possibility to obtain one, don't purchase the firearm, essential element or ammunition since we you will have a penalty of 30% of the firearm, essential element or ammunition sum for admin costs.
Leupold Optics: For all Mil/LE and Government Entities only. Please submit valid accreditation
Export notice: Certain items are controlled for export by the International Traffic in Arms Regulations (ITAR). These controls take the form of export regulations and license requirements.