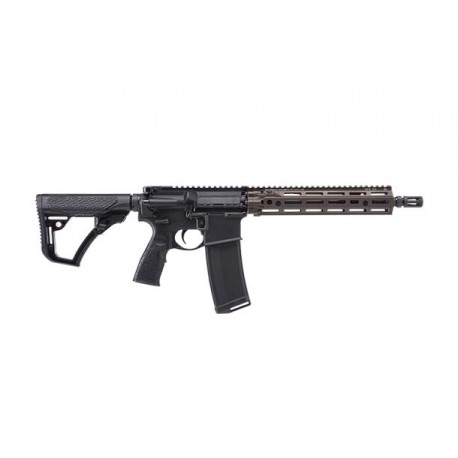 View larger
Daniel Defense DD4 RIII s 11.5" FDE 5.56 NATO
02-191-30095-047
New product
Warning: Last items in stock!
Availability date:
More info
This short-barreled version of our DD4 RIII comes with an 11.5" Government-profile barrel for maximum maneuverability and a Carbine length gas systemfor smooth, reliable cycling. Its fully ambidextrous lower offers right- and left-handed shooters with even more flexibility and control, while a 10.5" RISIII rail provides reduced weight and easy attachment/detachment of M-LOKaccessories. Class III dealers only; all NFA rules apply.FEATURES:+11.5" free-floating Government-profile barrel & Carbine length gassystem for increased maneuverability+Fully ambidextrous lower enables shooter to operate important riflemechanisms without moving dominant hand from rifle grip+10.5" RIS III Rail—modeled after the RIS II two-piece handguarddeveloped for SOCOM— features M-LOK attachment for lighter weightSPECIFICATIONS:Barrel Material:4150 Chrome Moly VanadiumBarrel Type:Cold Hammer ForgedBarrel Profile:GovernmentRifling Twist:1:7"Gas System Length:CarbineMuzzle Device:Flash SuppressorOverall Length:27 7/8"- 31 1/4"Weight (unloaded):5.92 LBSRail System:RIS III 10.5

Information: To buy firearms and essential elements, you must have or be able to obtain a weapon permit (WES/SON/PAA/PAE) in Switzerland according to. (Art. 8 al. 1 LArm and ss and art. 15 al. 1 ss OArm)
If you fulfill this requirement and you purchase a firearm, please send us the WES / PAA to the following address: Dynamik Arms SARL/Gmbh, 124 route d Annecy, 1257 Croix-De-Rozon Suisse
To Buy ammunition, we will need a copy of of less than 2 years old weapon permit (Waffenerwerbschein (WES / PAA)) with the same caliber as the ammo purchased that can be simply sent pdf by e-mail.
WARNING: If you don't have such permit or have doubt on the possibility to obtain one, don't purchase the firearm, essential element or ammunition since we you will have a penalty of 30% of the firearm, essential element or ammunition sum for admin costs.
Leupold Optics: For all Mil/LE and Government Entities only. Please submit valid accreditation
Export notice: Certain items are controlled for export by the International Traffic in Arms Regulations (ITAR). These controls take the form of export regulations and license requirements.