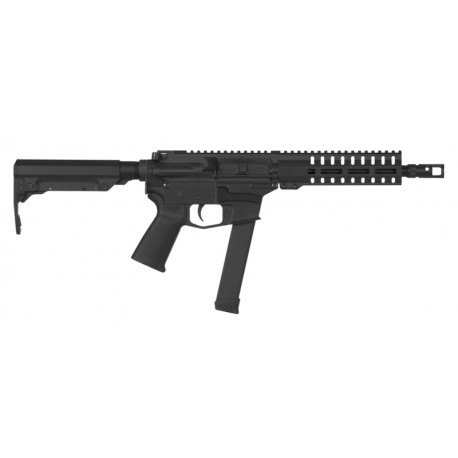 View larger
CMMG Banshee 200 MkGs Rifle 9mm Glock Mag Black
99A51C7 Black
New product
Warning: Last items in stock!
Availability date:
More info
If you are looking for a feature rich AR platform the 200 Series is for you. The 200 Series features classic furniture appointments such as Magpul's MOE pistol grip and CMMG's revolutionary RIPSTOCK or RIPBRACE. Chambered in 9mm, these pistols and SBRs are ready for the range.

The MkGs platform accepts Glock 9mm-style magazines, and features a unique magazine release.

CMMG delivers its lightest and most compact firearms within the BANSHEE line of Short Barreled Rifles (SBR's) and AR pistols. Don't let these little guys fool you though. With a wide range of caliber offerings available, there's plenty of firepower in the BANSHEE line. With a variety of different barrel lengths and furniture to choose from, the BANSHEE 100, BANSHEE 200 and BANSHEE 300 series will have the right combination for you when concealment and portability matter the most.

All Products come with CMMG's Lifetime Quality Guarantee.
Length 62 CM

| | |
| --- | --- |
| PLATFORM | MKGS |
| CALIBER | 9MM, 9MM RDB, 9MM (GLOCK) |
| OPERATING SYSTEM | RADIAL DELAYED BLOWBACK |
| BARREL LENGTH | 8 |
| BARREL TWIST | 1:10 |
| BARREL CONTOUR | MT |
| BARREL MATERIAL | 4140CM, SBN |
| BARREL TWIST | 1:10 |
| MUZZLE DEVICE | CMMG SV BRAKE |
| MUZZLE THREAD | 1/2 X 28 |
| GAS PORT LOCATION | N/A |
| GAS BLOCK | N/A |
| UPPER RECEIVER | FORGED 7075-T6 AL M4 TYPE UPPER |
| LOWER RECEIVER | FORGED 7075-T6 AL LOWER |
| HAND GUARD | CMMG RML7 M-LOK |
| FINISH | HARD COAT ANODIZED RECEIVERS AND HAND GUARD (CAN BE UPGRADED TO CERAKOTE) |
| CHARGING HANDLE | CMMG MIL-SPEC |
| PISTOL GRIP | MAGPUL MOE |
| RECEIVER EXTENSION | 6 POSITION ENHANCED RECEIVER EXTENSION AND AMBI SLING PLATE |
| STOCK / BRACE | CMMG RIPBRACE |
| TRIGGER TYPE | MIL-SPEC SINGLE STAGE |
| TRIGGER GUARD | INTEGRATED INTO LOWER |
| SAFETY SELECTOR | CMMG MIL-SPEC |
| MAGAZINE | GLOCK 33RD |
| WEIGHT | 5.8 |
Information: To buy firearms and essential elements, you must have or be able to obtain a weapon permit (WES/SON/PAA/PAE) in Switzerland according to. (Art. 8 al. 1 LArm and ss and art. 15 al. 1 ss OArm)
If you fulfill this requirement and you purchase a firearm, please send us the WES / PAA to the following address: Dynamik Arms SARL/Gmbh, 124 route d Annecy, 1257 Croix-De-Rozon Suisse
To Buy ammunition, we will need a copy of of less than 2 years old weapon permit (Waffenerwerbschein (WES / PAA)) with the same caliber as the ammo purchased that can be simply sent pdf by e-mail.
WARNING: If you don't have such permit or have doubt on the possibility to obtain one, don't purchase the firearm, essential element or ammunition since we you will have a penalty of 30% of the firearm, essential element or ammunition sum for admin costs.
Leupold Optics: For all Mil/LE and Government Entities only. Please submit valid accreditation
Export notice: Certain items are controlled for export by the International Traffic in Arms Regulations (ITAR). These controls take the form of export regulations and license requirements.