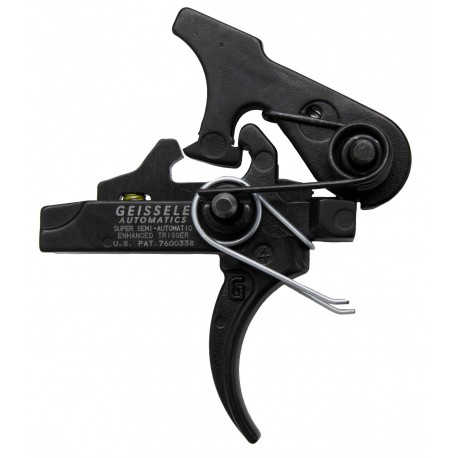 View larger
Geissele Super Semi-Automatic Enhanced SSA-E
SSA-E
New product
Warning: Last items in stock!
Availability date:
More info
Super Semi-Automatic Enhanced (SSA-E) Trigger
| | |
| --- | --- |
| Type: | 2 Stage |
| 1st Stage Weight: | 2.3lbs. |
| 2nd Stage Weight: | 1.2lbs. |
| Total Pull Weight: | 3.5lbs. |
| Adjustable: | No |
| Recommended Use: | Target Shooting, Precision Shooting |
| Pin Size: | Mil-Spec |
All weights are approximates.

Please note, our triggers are designed for mil-spec AR15/M4 carbine rifles. Our AR15 triggers are not compatible with the Sig MPX/MCX weapons.
The Geissele Super Semi-Automatic Enhanced (SSA-E) Trigger is a finely-tuned semi-automatic-only version of our full-auto, two stage combat trigger presently used in the U.S. Special Operations Community.
Built on the chassis of the Geissele SSA, the Super Semi-Automatic Enhanced (SSA-E) provides enhanced trigger control and weapon accuracy while maintaining the robustness and reliability of our combat-proven two-stage trigger. The SSA-E's reduced first and second stage pull weights result in a trigger with a smooth, light first stage take-up and a crisp, candy cane-like second stage break. The SSA-E is ideal for use in precision Squad Designated Marksman type rifles where weapon accuracy and reliability are critical and a non-adjustable drop in trigger is desired.
---
| | |
| --- | --- |
| Size | Standard Mil-Spec Pin |
| Trigger Bow Type | M4 Curved |
| Weapon Platform | AR15/AR10 |
Information: To buy firearms and essential elements, you must have or be able to obtain a weapon permit (WES/SON/PAA/PAE) in Switzerland according to. (Art. 8 al. 1 LArm and ss and art. 15 al. 1 ss OArm)
If you fulfill this requirement and you purchase a firearm, please send us the WES / PAA to the following address: Dynamik Arms SARL/Gmbh, 124 route d Annecy, 1257 Croix-De-Rozon Suisse
To Buy ammunition, we will need a copy of of less than 2 years old weapon permit (Waffenerwerbschein (WES / PAA)) with the same caliber as the ammo purchased that can be simply sent pdf by e-mail.
WARNING: If you don't have such permit or have doubt on the possibility to obtain one, don't purchase the firearm, essential element or ammunition since we you will have a penalty of 30% of the firearm, essential element or ammunition sum for admin costs.
Leupold Optics: For all Mil/LE and Government Entities only. Please submit valid accreditation
Export notice: Certain items are controlled for export by the International Traffic in Arms Regulations (ITAR). These controls take the form of export regulations and license requirements.