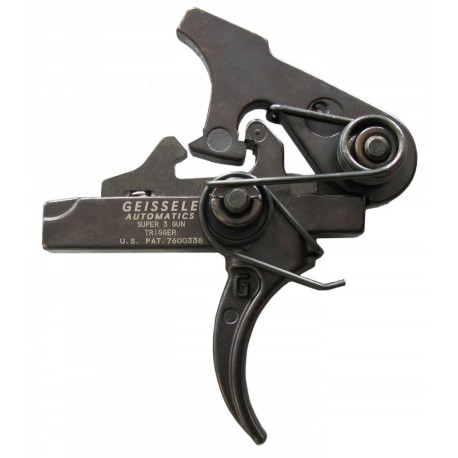 View larger
Geissele Super 3 Gun S3G
S3G
New product
Warning: Last items in stock!
Availability date:
More info
Super 3 Gun (S3G) Trigger
| | |
| --- | --- |
| Type: | Single Stage |
| Total Pull Weight: | 4.0lbs. (3.25lbs. or 4.0lbs depending on spring) |
| Adjustable: | No |
| Recommended Use: | 3 Gun |
| Pin Size: | Mil-Spec |
All weights are approximates.

Please note, our triggers are designed for mil-spec AR15/M4 carbine rifles. Our AR15 triggers are not compatible with the Sig MPX/MCX weapons.
The Geissele Super 3 Gun (S3G) is a semi-automatic, hybrid cross between a single-stage trigger and a traditional 2-stage trigger. Its robust feel and light pull weight, combined with a lightning-quick reset, make this trigger ideal for any 3 Gun competitor.

---
| | |
| --- | --- |
| Notes | The S3G trigger has a very short, light pull and reset. We do not recommend it for duty use, bench rest, accuracy work or shooting small groups. It is designed for close course competition use where rapid target engagement with quick follow up shots are required.* COLT 901 RIFLE USERS PLEASE SEE ARMORS TOOLS FOR PINS (PART# 02-269) THAT WORK WITH THE WIDER RECEIVER. |
| Size | Standard Mil-Spec Pin |
| Trigger Bow Type | M4 Curved |
| Weapon Platform | AR15/AR10 |
Information: To buy firearms and essential elements, you must have or be able to obtain a weapon permit (WES/SON/PAA/PAE) in Switzerland according to. (Art. 8 al. 1 LArm and ss and art. 15 al. 1 ss OArm)
If you fulfill this requirement and you purchase a firearm, please send us the WES / PAA to the following address: Dynamik Arms SARL/Gmbh, 124 route d Annecy, 1257 Croix-De-Rozon Suisse
To Buy ammunition, we will need a copy of of less than 2 years old weapon permit (Waffenerwerbschein (WES / PAA)) with the same caliber as the ammo purchased that can be simply sent pdf by e-mail.
WARNING: If you don't have such permit or have doubt on the possibility to obtain one, don't purchase the firearm, essential element or ammunition since we you will have a penalty of 30% of the firearm, essential element or ammunition sum for admin costs.
Leupold Optics: For all Mil/LE and Government Entities only. Please submit valid accreditation
Export notice: Certain items are controlled for export by the International Traffic in Arms Regulations (ITAR). These controls take the form of export regulations and license requirements.