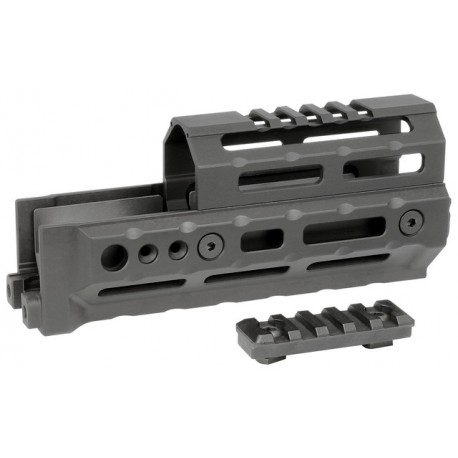 View larger
MI AK ALPHA SERIES M-LOK 6"
MI-AK-ALPHA6
New product
Warning: Last items in stock!
Availability date:
More info
Next generation Midwest Industries AK drop-in handguard
Developed for full flexibility with full handguard, bottom handguard only, MI AK Alpha Series optic and top cover accessories, and railed gas tube configurations
Adjustable design fits on most AKM firearms with stamped receivers
Specially-designed heat shield included with each MI AK Alpha Series handguard
No permanent modifications to firearm
Robust design with multiple contact points to firearm
Multiple QD points for sling attachments
Constructed from lightweight Hard Coat Anodized 6061 Aluminum for a lifetime of service
M-LOK™ compatible design includes one five slot picatinny rail section
Made in the USA
Lifetime Warranty
May require slight fitting based on receiver size and handguard cap position - If your firearm is not straight, take your firearm to gunsmith for installation
Weight:
MI-AK-ALPHA6: 7.9 oz
MI-AK-ALPHA10.0: 11.4 oz
Length:
MI-AK-ALPHA6: 6.0"
MI-AK-ALPHA10.0: 10.0"
Compatible with most AK47/AK74 AKM stamped receiver firearms
Will NOT fit Yugo or milled receiver firearms.
Compatible with Midwest Industries Alpha Series red dot mounts and top cover
(MI-AK-ALPHA-RDM, MI-AK-ALPHA-T2M, MI-AK-ALPHA-RTC)
Compatible with Midwest Industries railed gas tube and Ultimak rail gas tube
M-LOK™ is a trademark of Magpul Industries Corp
Information: To buy firearms and essential elements, you must have or be able to obtain a weapon permit (WES/SON/PAA/PAE) in Switzerland according to. (Art. 8 al. 1 LArm and ss and art. 15 al. 1 ss OArm)
If you fulfill this requirement and you purchase a firearm, please send us the WES / PAA to the following address: Dynamik Arms SARL/Gmbh, 124 route d Annecy, 1257 Croix-De-Rozon Suisse
To Buy ammunition, we will need a copy of of less than 2 years old weapon permit (Waffenerwerbschein (WES / PAA)) with the same caliber as the ammo purchased that can be simply sent pdf by e-mail.
WARNING: If you don't have such permit or have doubt on the possibility to obtain one, don't purchase the firearm, essential element or ammunition since we you will have a penalty of 30% of the firearm, essential element or ammunition sum for admin costs.
Leupold Optics: For all Mil/LE and Government Entities only. Please submit valid accreditation
Export notice: Certain items are controlled for export by the International Traffic in Arms Regulations (ITAR). These controls take the form of export regulations and license requirements.