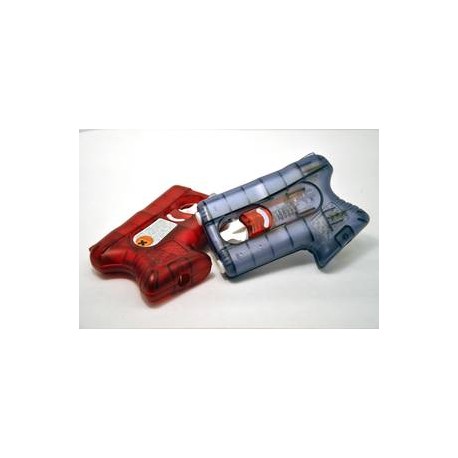 View larger
Guardian Angel 2, noir/schwarz
New product
Warning: Last items in stock!
Availability date:
More info
Guardian Angel II carctéristiques:
visière
crosse mouveau
2 soups
145 km/h
4-6 m distance
pas à recharger

La peur est quelque chose de terrible: Guardian Angel est un appareil moderne d'autodéfense sur lequel on peut compter. Un véritable ange gardien. Même dans une situation d'urgence, dans laquelle chaque mouvement compte, l'ange gardien est intuitivement tenu correctement dans la main. Guardian Angel a été conçu selon des principes ergonomiques. Un jet ultra-rapide de substance irritante est propulsé sur l'agresseur à une vitesse de 145 km/h. Une charge pyrotechnique (comparable à celle d'un airbag d'une voiture) accélère le jet comme un projectile liquide. Une technologie primée. En ce laps de temps Guardian Angel génère un dense nuage de substance irritante sur une distance de 4 mètres. L'appareil le plus rapide en son genre. L'effet se déploie immédiatement et paralyse instantanément l'agresseur pour 45 min.

En vente libre à partir de 18 ans.

Le Guardian Angel a gagné le DeVigier Award 2000 et le Technologie Award 2001 en Suisse.
Information: To buy firearms and essential elements, you must have or be able to obtain a weapon permit (WES/SON/PAA/PAE) in Switzerland according to. (Art. 8 al. 1 LArm and ss and art. 15 al. 1 ss OArm)
If you fulfill this requirement and you purchase a firearm, please send us the WES / PAA to the following address: Dynamik Arms SARL/Gmbh, 124 route d Annecy, 1257 Croix-De-Rozon Suisse
To Buy ammunition, we will need a copy of of less than 2 years old weapon permit (Waffenerwerbschein (WES / PAA)) with the same caliber as the ammo purchased that can be simply sent pdf by e-mail.
WARNING: If you don't have such permit or have doubt on the possibility to obtain one, don't purchase the firearm, essential element or ammunition since we you will have a penalty of 30% of the firearm, essential element or ammunition sum for admin costs.
Leupold Optics: For all Mil/LE and Government Entities only. Please submit valid accreditation
Export notice: Certain items are controlled for export by the International Traffic in Arms Regulations (ITAR). These controls take the form of export regulations and license requirements.