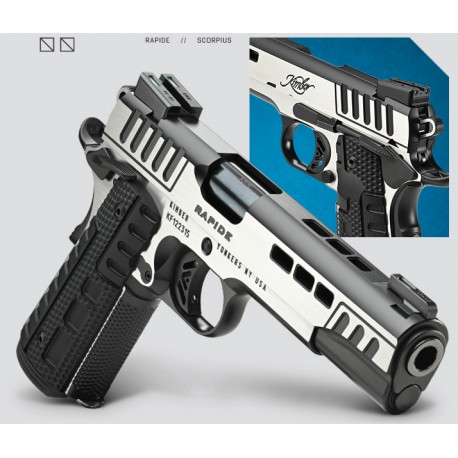 View larger
Kimber 1911 Rapide Skorpius 9mm Para
3000421
New product
Warning: Last items in stock!
Availability date:
More info
The RAPIDE(SCORPIUS) (DN,NS). A truly unique 1911 with stepped cocking serrations, slide lightening cuts for faster Slide lock-up and DLC coated barrel for extreme durability. Equipped with Kimber Stiplex TM front strap stippling and Black G10 Rapide patterned grips for extra griping confidence. Kimpro Black finish with brush polished flats finish off the striking looks. 9 Rd. SST magazine
SPECIFICATIONS
Height (inches) 90° to barrel: 5.25
Weight (ounces) with empty magazine: 40
Length (inches): 8.7
Magazine capacity: 9
Recoil spring (pounds): 12.0
Mil-Spec guide rod
FRAME
Material: Stainless steel
Finish: Black KimPro II w/brush polished flats
Width (inches): 1.28
SLIDE
Material: Stainless steel
Finish: Black KimPro II w/brush polished flats
Front serrations
BARREL
Length (inches): 5
Material: Stainless steel, match grade w/ Black DLC FInish
Match grade bushing
Twist rate (left hand): 16
SIGHTS

Tru-Glo TFX Pro Day Night w/Orange ring front
TRIGGER
V-Cut aluminum, Black
Factory setting (approximate pounds): 4.0 - 5.0
Information: To buy firearms and essential elements, you must have or be able to obtain a weapon permit (WES/SON/PAA/PAE) in Switzerland according to. (Art. 8 al. 1 LArm and ss and art. 15 al. 1 ss OArm)
If you fulfill this requirement and you purchase a firearm, please send us the WES / PAA to the following address: Dynamik Arms SARL/Gmbh, 124 route d Annecy, 1257 Croix-De-Rozon Suisse
To Buy ammunition, we will need a copy of of less than 2 years old weapon permit (Waffenerwerbschein (WES / PAA)) with the same caliber as the ammo purchased that can be simply sent pdf by e-mail.
WARNING: If you don't have such permit or have doubt on the possibility to obtain one, don't purchase the firearm, essential element or ammunition since we you will have a penalty of 30% of the firearm, essential element or ammunition sum for admin costs.
Leupold Optics: For all Mil/LE and Government Entities only. Please submit valid accreditation
Export notice: Certain items are controlled for export by the International Traffic in Arms Regulations (ITAR). These controls take the form of export regulations and license requirements.