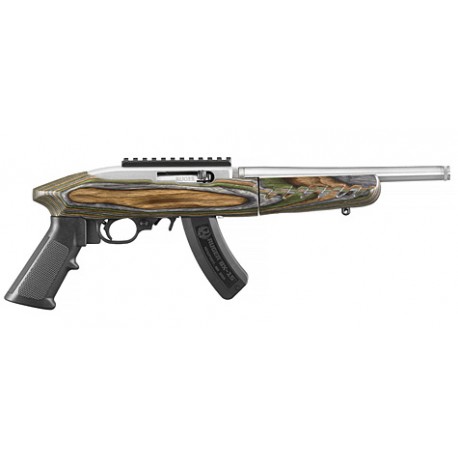 View larger
22 Charger Takedown Pistol. 22 LR Green mountain laminate 10"
New product
This product is no longer in stock
Warning: Last items in stock!
Availability date:
More info
Quickly and easily breaks down into two sections for convenient storage and transport.
Cold hammer-forged barrel results in ultra-precise rifling that provides exceptional accuracy, longevity and easy cleaning.
Threaded barrel features a 1/2"-28 thread pattern that accepts most suppressors, flash hiders and the factory installed thread protector.
Factory installed Picatinny rail provides ample room for scopes and red-dot sights.
Includes a BX-15® magazine, with 15-round capacity, which is the perfect height when shooting with the included bipod prone or from the bench.
Included adjustable bipod offers rock-steady sighting.
Features a standard A2-style grip and can be easily changed for any MSR grip.
Also includes: Hard Plastic Case.
Information: To buy firearms and essential elements, you must have or be able to obtain a weapon permit (Waffenerwerbschein (WES / PAA)) in Switzerland according to. (Art. 8 al. 1 LArm and ss and art. 15 al. 1 ss OArm)
If you fulfill this requirement and you purchase a firearm, please send us the WES / PAA to the following address: Dynamik Arms SARL/Gmbh, 124 route d Annecy, 1257 Croix-De-Rozon Suisse
To Buy ammunition, we will need a copy of of less than 2 years old weapon permit (Waffenerwerbschein (WES / PAA)) with the same caliber as the ammo purchased that can be simply sent pdf by e-mail.
WARNING: If you don't have such permit or have doubt on the possibility to obtain one, don't purchase the firearm, essential element or ammunition since we you will have a penalty of 30% of the firearm, essential element or ammunition sum for admin costs.