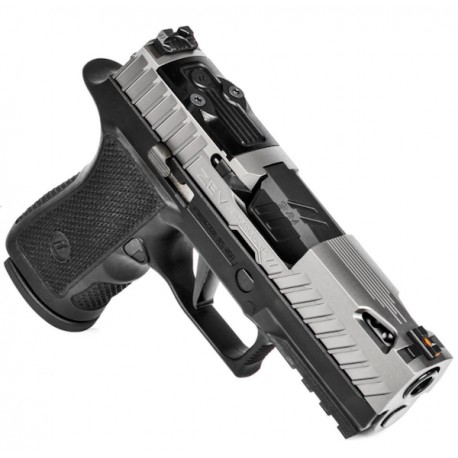 View larger
ZEV Z320 XCompact Octane Gunmod w/ RMR Cut GRY Slide BLK Barrel
GUNMOD-Z320-XCOMPACT-OCTANE-RMR-
New product
Warning: Last items in stock!
Availability date:
More info
The Z320 XCompact gun-mods come standard with an X series trigger, Octane Slide with Trijicon RMR compatibility, PRO Barrel and Zev's fiber optic Combat Sights. The grip module utilizes our diamond pattern, laser cut grip to keep your hands secure, regardless of environment, while still maintaining comfort in hand.
The Octane slide was designed by founder Al Wolf and is the perfect storm of end user driven features. Aggressive slide serrations help with manipulations while the slide ports and cuts create a lighter slide allowing the pistol to shoot flatter and maintain sight picture more easily during follow up shots.
ZEV Z320 XCompact Octane Slide, RMR Optic Cut, Titanium Gray
ZEV Z320 XCompact PRO Barrel, Black DLC.
ZEV Fiber Optic Combat Sight Set
ZEV RMR Cover Plate
SIG Sauer P320 X Series Flat Face Trigger
Two 15 round SIG Sauer P320 Magazines
Information: To buy firearms and essential elements, you must have or be able to obtain a weapon permit (WES/SON/PAA/PAE) in Switzerland according to. (Art. 8 al. 1 LArm and ss and art. 15 al. 1 ss OArm)
If you fulfill this requirement and you purchase a firearm, please send us the WES / PAA to the following address: Dynamik Arms SARL/Gmbh, 124 route d Annecy, 1257 Croix-De-Rozon Suisse
To Buy ammunition, we will need a copy of of less than 2 years old weapon permit (Waffenerwerbschein (WES / PAA)) with the same caliber as the ammo purchased that can be simply sent pdf by e-mail.
WARNING: If you don't have such permit or have doubt on the possibility to obtain one, don't purchase the firearm, essential element or ammunition since we you will have a penalty of 30% of the firearm, essential element or ammunition sum for admin costs.
Leupold Optics: For all Mil/LE and Government Entities only. Please submit valid accreditation
Export notice: Certain items are controlled for export by the International Traffic in Arms Regulations (ITAR). These controls take the form of export regulations and license requirements.