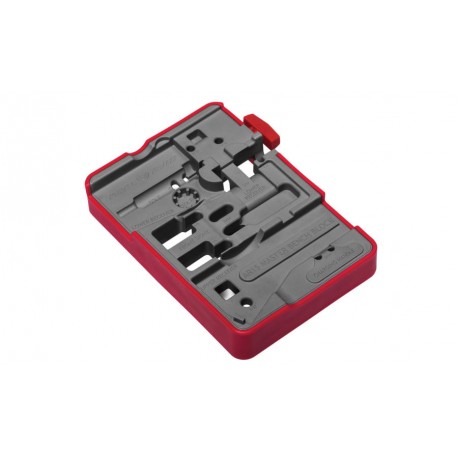 View larger
Master Bench Block
New product
Warning: Last items in stock!
Availability date:
More info
Holds all key AR15 parts to easily remove 13 different pins
The most comprehensive AR15 bench block ever allows you to tap 13 critical pins from 5 different components. The block is wrapped in an over-molding that grips to your bench to prevent slippage. Plus, engraved on the ultra-tough engineering grade surface are clear component labels marked with pin punch sizes to make determining what component to place where and what pins to use, simple. On the backside of the block, to capture pins and keep them from rolling away, are embedded magnets and, to keep your pins from getting lost, a pin storage section is included.
Product overview
5 1/4 x 7 1/2 inches
Work Surface Made from Ultra-Tough Engineering Resin
Rubberized Non-Slip Outer Surface
Four Strong Magnets Under the Block
Bolt (Horizontal) 1/16" and 3/32" Pins
Bolt (Vertical)
Gas Block (2) 1/8" and 5/64" Pins
Upper Receiver
Forward Assist 3/32" Pin
Charging Handle 5/64" Pin
Trigger Guard 1/8" Pin
Pin Storage
Trigger Guard 1/8" Pin
Lower Receiver
Information: To buy firearms and essential elements, you must have or be able to obtain a weapon permit (Waffenerwerbschein (WES / PAA)) in Switzerland according to. (Art. 8 al. 1 LArm and ss and art. 15 al. 1 ss OArm)
If you fulfill this requirement and you purchase a firearm, please send us the WES / PAA to the following address: Dynamik Arms SARL/Gmbh, 124 route d Annecy, 1257 Croix-De-Rozon Suisse
To Buy ammunition, we will need a copy of of less than 2 years old weapon permit (Waffenerwerbschein (WES / PAA)) with the same caliber as the ammo purchased that can be simply sent pdf by e-mail.
WARNING: If you don't have such permit or have doubt on the possibility to obtain one, don't purchase the firearm, essential element or ammunition since we you will have a penalty of 30% of the firearm, essential element or ammunition sum for admin costs.