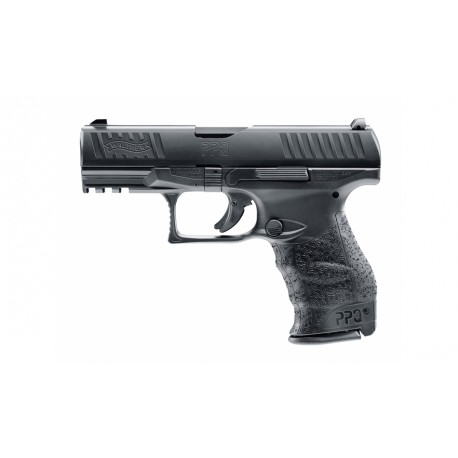 View larger
Walther PPQ M2 4" barrel Cal. 9x19
P01642
New product
Warning: Last items in stock!
Availability date:
More info
The M-series of the WALTHER PPQ was introduced at last year's SHOT SHOW, but at first only for US-customers. From March 2014 (IWA fair) this M2 version is also available for all other foreign markets. The M2 pistols can be recognized by its magazine release button at the left side, instead of the former lever, that was integrated in the trigger guard. The new button can be changed over to the right side, the slide stop lever is already ambidextrous. The new position of the button will be welcomed both by IPSC shooters and law enforcement or personal protection users.
All other technical features are remaining: The PPQ's striker fired trigger combines the advantages of a modern hammerless system, automatically operating safeties, and most modern materials. The hammerless action in conjunction with up-to-date materials permits a very compact design and it considerably reduces the number of parts required when compared to hammer-fired pistols. The WALTHER PPQ is a designated law enforcement pistol. Its design is based on the Technical Specifications for Pistols of the German Police.
The reinforced polymer frame comes with interchangeable grip-backstraps for varying hand sizes. An ergonomic, textured grip plus the smooth outside contour keeps the PPQ from snagging on clothing when carried concealed and helps to speed up drawing the gun from a holster, for example when carrying the PPQ M2 concealed. With an overall length of 180 mm and a 102-mm-barrel (4") the empty pistol weighs only 695 grams. The magazines in 9 mm hold 15 rounds.
| | |
| --- | --- |
| System | Semi-Automatic |
| Caliber | 9 mm x 19 |
| Capacity | 15 rounds / magazine |
| Safety | 3 automatic |
| Grip | 3 interchangeable backstraps |
| Trigger | Quick Defense, pre-cocked striker |
| Trigger weight (g) | 2500 |
| Trigger travel (mm) | 7 |
| Length between trigger and backstrap (mm) | 72 |
| Distance from center of barrel to shooting hand (mm) | 25 |
| Sights | Steel sights with phosphor 3-dot |
| Sight length (mm) | 156 |
| Barrel | Polygonlauf |
| Barrel length (mm) | 102 4" |
| Dimensions (L/H/W mm) | 180/135/34 |
| Weight (g) | 695 |
| Note | Grip circumference 134 mm |
| Note | MIL-STD-1913 accessory rail |
| Packaging | Plastic gun case |
Information: To buy firearms and essential elements, you must have or be able to obtain a weapon permit (WES/SON/PAA/PAE) in Switzerland according to. (Art. 8 al. 1 LArm and ss and art. 15 al. 1 ss OArm)
If you fulfill this requirement and you purchase a firearm, please send us the WES / PAA to the following address: Dynamik Arms SARL/Gmbh, 124 route d Annecy, 1257 Croix-De-Rozon Suisse
To Buy ammunition, we will need a copy of of less than 2 years old weapon permit (Waffenerwerbschein (WES / PAA)) with the same caliber as the ammo purchased that can be simply sent pdf by e-mail.
WARNING: If you don't have such permit or have doubt on the possibility to obtain one, don't purchase the firearm, essential element or ammunition since we you will have a penalty of 30% of the firearm, essential element or ammunition sum for admin costs.
Leupold Optics: For all Mil/LE and Government Entities only. Please submit valid accreditation
Export notice: Certain items are controlled for export by the International Traffic in Arms Regulations (ITAR). These controls take the form of export regulations and license requirements.