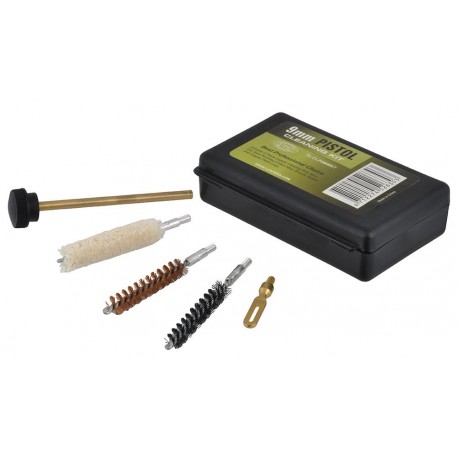 View larger
9 mm Pistol Cleaning Kit
TL-CLP9MMKT
New product
Warning: Last items in stock!
Availability date:
More info
| | |
| --- | --- |
| • | For .38/.357 and 9mm Cal. Handguns |
| • | Copper Alloy Precision Cleaning Rods with Tight Tolerance Threads for Guaranteed Level and Long Lasting Use |
| • | Robust Construction with Excellent Strength and Durability, Offering Full Protection of Barrel |
| • | Value Pack of 3 Brushes Made from Bronze, Cotton Mop, and Nylon for Use in Lightest to Most Thorough Cleaning Operations |
| • | Includes a Great Quality Copper Patch Loop for Fast Bore Cleaning with Patches |
| • | All Threads are Standard 8-32 and Interchangeable with any Components on the Market |
| • | Comes with Bonus Polymer Case (4 5/8" X 2 7/8" X 1 1/4") with Internal Clam and Padding for Easy Carry and Convenient Storage |
| • | Superb Quality & Value with Unmatchable Wholesale Price |
Information: To buy firearms and essential elements, you must have or be able to obtain a weapon permit (Waffenerwerbschein (WES / PAA)) in Switzerland according to. (Art. 8 al. 1 LArm and ss and art. 15 al. 1 ss OArm)
If you fulfill this requirement and you purchase a firearm, please send us the WES / PAA to the following address: Dynamik Arms SARL/Gmbh, 124 route d Annecy, 1257 Croix-De-Rozon Suisse
To Buy ammunition, we will need a copy of of less than 2 years old weapon permit (Waffenerwerbschein (WES / PAA)) with the same caliber as the ammo purchased that can be simply sent pdf by e-mail.
WARNING: If you don't have such permit or have doubt on the possibility to obtain one, don't purchase the firearm, essential element or ammunition since we you will have a penalty of 30% of the firearm, essential element or ammunition sum for admin costs.