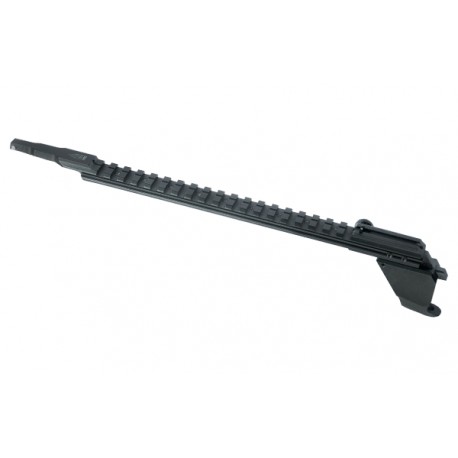 View larger
UTG PRO Made in USA AK47 Tactical QD Low-profile Rail System
MTU014
New product
Warning: Last items in stock!
Availability date:
More info
Detail Information:
•
Proudly Designed and Made in USA

•
Fits with Polish, Romanian, Chinese, U.S. AKs and also Saigas with Rear Sight Blade and Fixed Buttstock

•
Innovative 3-point Modular and Adjustable Locking System for Optimal Low Profile and Most Secure Fit

•
Integrated Backup Rear Iron Sight with Precision Windage Adjustment

•
Easy and Friendly Mounting Operation - Simply Replace the Rear Sight Blade and Bolt the Rear Assembly into the Buttstock for Rock Solid Installation

•
Clever, Quick-detach, Flip-open Design for Convenient Gun Cleaning and Zero Retention

•
19 Rail Slots for Flexible Use of Scope, Dot Sight, Magnifier and Other Accessories

•
Matte Black Anodizing Ensuring Best Wear Resistance and Long Term Durability



NOTE: This model does not work with milled receiver AK 47 with a slanted tang.

Information: To buy firearms and essential elements, you must have or be able to obtain a weapon permit (Waffenerwerbschein (WES / PAA)) in Switzerland according to. (Art. 8 al. 1 LArm and ss and art. 15 al. 1 ss OArm)
If you fulfill this requirement and you purchase a firearm, please send us the WES / PAA to the following address: Dynamik Arms SARL/Gmbh, 124 route d Annecy, 1257 Croix-De-Rozon Suisse
To Buy ammunition, we will need a copy of of less than 2 years old weapon permit (Waffenerwerbschein (WES / PAA)) with the same caliber as the ammo purchased that can be simply sent pdf by e-mail.
WARNING: If you don't have such permit or have doubt on the possibility to obtain one, don't purchase the firearm, essential element or ammunition since we you will have a penalty of 30% of the firearm, essential element or ammunition sum for admin costs.