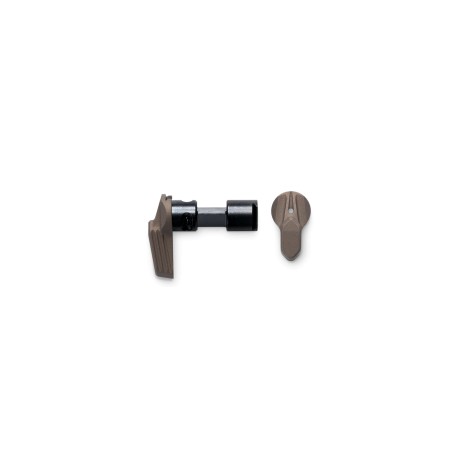 View larger
Radian Talon Ambidextrous 45/90 Safety Selector – Radian Brown 2 Lever
R0021
New product
Warning: Last items in stock!
Availability date:
More info
The Talon™ ambidextrous safety selector is a modular design that can be installed as a standard 90° or as a 45° short throw by simply rotating the shaft 180° inside the lower receiver. Selector levers install using a precision machined dovetail interface with spring-loaded retention stud to lock the lever in place – no screws to come loose or break. The Talon is compatible with most semi-automatic AR15 & AR10/SR25-pattern rifles as well as MCX and MPX platforms.
Designed & Manufactured in the USA

2-Lever Combo: Short + Long

Levers Machined from Billet aircraft grade aluminum w Milspec Type 3 Hard Coat Anodized Finish or Cerakote

Center Shaft Machined from Hardened Steel w/ Black Nitride Finish
Information: To buy firearms and essential elements, you must have or be able to obtain a weapon permit (WES/SON/PAA/PAE) in Switzerland according to. (Art. 8 al. 1 LArm and ss and art. 15 al. 1 ss OArm)
If you fulfill this requirement and you purchase a firearm, please send us the WES / PAA to the following address: Dynamik Arms SARL/Gmbh, 124 route d Annecy, 1257 Croix-De-Rozon Suisse
To Buy ammunition, we will need a copy of of less than 2 years old weapon permit (Waffenerwerbschein (WES / PAA)) with the same caliber as the ammo purchased that can be simply sent pdf by e-mail.
WARNING: If you don't have such permit or have doubt on the possibility to obtain one, don't purchase the firearm, essential element or ammunition since we you will have a penalty of 30% of the firearm, essential element or ammunition sum for admin costs.
Leupold Optics: For all Mil/LE and Government Entities only. Please submit valid accreditation
Export notice: Certain items are controlled for export by the International Traffic in Arms Regulations (ITAR). These controls take the form of export regulations and license requirements.